Volcanic eruptions

Era of major volcanic eruptions nears

The recent volcanic eruptions in Iceland upset airline bosses and caused a lot of fuss, but they were trivial by comparison with what could happen next, according to Clive Oppenheimer's new book; 10 percent of the world's population and at least twelve major cities now located within range of a volcano, so a more accurate perspective is needed on what they can do, so that rational plans can be drawn up in preparation for future events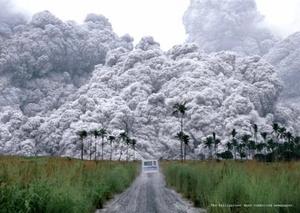 Giant ash plumes may become more commonplace // Source: hsj.org
If you thought the Icelandic volcano was bad — think again. According to a new study, the recent ash clouds that grounded aircraft and marooned holiday-makers were "just a taste" of the widespread air pollution, public health problems and agricultural crises that future, bigger eruptions could bring.
These are just a few of the conclusions of what, rather ironically, claims to be a "non-catastrophist" new book by the University of Cambridge volcanologist, Dr. Clive Oppenheimer, entitled Eruptions That Shook The World and published by Cambridge University Press.
A Cambridge University release reports that the book explores both the nature and history of volcanoes, showing how eruptions that we may think of as disastrous for their local communities actually had dramatic consequences for the Earth's climate, and therefore sometimes for societies on the other side of the world.
Volcanic activity, Oppenheimer argues, was at least part of the reason for numerous major events in world history — among them the collapse of Minoan civilization, medieval bubonic plague, the 19th century prairie trail migrations to the American West; even the rise of anti-Semitism in Europe.
That may not sound particularly non-catastrophist, but his concern is with sifting through real evidence — from the volcanic rocks themselves, as well as from archaeology, historical documents, mythology, and ancient climate records. "What we need is a reality check — a forensic test to see how far claims about catastrophes changing the world really hold up," Oppenheimer said.
Oppenheimer believes that volcanoes remain widely misunderstood: "There is a lot to learn about volcanoes and they affect our lives in so many ways, even if we don't live near one." With, according to one estimate, 10% of the world's population and at least 12 major cities now located within range of a volcano, a more accurate perspective is needed on what they can do, so that rational plans can be drawn up in preparation for future events.
"The Japanese earthquake, tsunami and knock-on effects at the Fukushima nuclear plant shows that cascading failures can have massive impacts on societies," he added. "The problem for governments is that the potential scale of the damage that really big eruptions cause is difficult to consider against the improbability of them occurring. We need effective tools for making informed decisions about how to prepare. This means deducing as much as we can from past eruptions."
Beyond the geological information proffered by volcano sites, much of the evidence comes