Exploding garbage truck in Florida not act of terrorism
Published 1 December 2010
An explosion on an Orlando, Florida garbage truck raise fears that the garbage-truck crew had stumbled on an underground bomb factory which had foolishly thrown some of its products in the rubbish — or that the explosion presaged a fearful terror wave campaign of exploding bins or municipal vehicles; police investigation finds that the explosion was caused by a local resident foolishly disposing of a pressurized container in their garbage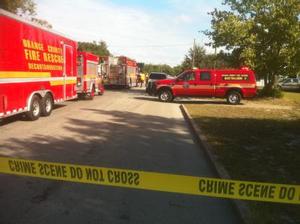 Emergency services response to explosion // Source: breakingorlandonews.com
The city of Orlando, Florida, experienced a few hours of fear after a garbage lorry exploded in a blast heard across the Pine Hills neighborhood after a refuse operative tossed unidentified rubbish into its compactor.
Local cops, firemen, and bomb-disposal experts rushed to the scene and surrounding homes were evacuated, with other residents warned to stay indoors. A robot was used to examine the scene of the blast. Local resident Brian Yannito told the Orlando Sentinel that the explosion made a loud "kaboom" sound and that the windows of his house, four along from the scene of the devastation, were shaken by the shockwaves.
Lewis Page writes that fears that the garbage-truck crew had stumbled on an underground bomb factory which had inadvertantly thrown some of its products in the rubbish — or that the explosion presaged a fearful terror wave campaign of exploding bins or municipal vehicles — were unfounded, however.
The bomb squad's robotic and human operatives' assessment was that the blast had been caused by a local resident foolishly disposing of a pressurized container in their garbage: perhaps a propane barbecue-gas canister or an oxygen cylinder.
The refuse operative who had thrown the as-of-this-writing unknown object into the truck's compactor was carried from the scene on a stretcher, but it later emerged that his injuries were minor. Personal Injury Lawyers News reports that he suffered no more than "cuts and scrapes."