Disasters

Firefighters struggling with Arizona's second largest wildfire in history

Firefighters in eastern Arizona are struggling to contain the second largest wildfire in the state's history; as the blaze burns toward New Mexico, Arizona officials have been forced to evacuate mountain resort communities and close national forests and parks; the wildfire has been burning steadily since 29 May; the conflagration now covers more than 311,000 acres in the White Mountains of eastern Arizona, and is threatening to damage power lines carrying electricity to Tucson; the fire is growing at a rate of four to five miles a day and protracted drought and dry, high winds have hampered efforts to control the blaze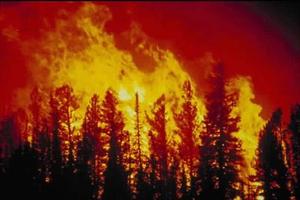 Much of the fire is out of control // Source: gev.com
Firefighters in eastern Arizona are struggling to contain the second largest wildfire in the state's history.
As the blaze burns towards New Mexico, Arizona officials have been forced to evacuate mountain resort communities and close national forests and parks. In addition, earlier this week, officials issued air quality alerts in New Mexico after a heavy cloud of smoke descended upon Santa Fe disrupting flights into Albuquerque. The Arizona wildfire has been burning steadily since 29 May. Officials suspect that an unattended camp fire may have been the cause.
The conflagration now covers more than 311,000 acres in the White Mountains of eastern Arizona, and is threatening to damage power lines carrying electricity to Tucson. Tucson Electric reported that the fire was burning eight miles away from two 345-kilovolt transmission lines and that the fire could reach the grasslands located near its 1,200 megawatt coal-fired power plant.
The fire is growing at a rate of four to five miles a day and efforts to control the blaze have been hampered by a protracted drought which has left the forests dry and with plenty of vegetation to burn as well as dry, high winds which have been fanning the flames.
In an interview with Time Magazine, Jeff Piechura, the chairman of the Arizona Fire Service Institute, explained that the wind has been a serious hindrance to containment efforts.
"We've had limited successes in some areas, but with the winds, some of those successes have been threatened or lost. Until the wind slows down, the humidities rise and the fuels change from very dense forest to smaller, lighter fuels, the fire's going to keep on running," Piechura said.
In addition, the high winds have produced a lot of embers which are in turning starting additional fires.
Piechura said the wind has "these embers landing almost three miles away from the fire-front itself. If embers are hot, they will 100 percent start new fires, so we have spot fires to contend with from anywhere from a few dozen yards away from the main body of fire to miles away from the fire."
But Piechura said that efforts have been bolstered by additional resources from other states.
"To the north of us, areas that generally start burning now are wet. So we're fortunate that the resources coming in are plentiful," he said.
For now, firefighters in Arizona have little chance of stopping the blaze until the winds die down.
"It's just a matter of waiting for Mother Nature to slow down so we can keep going and take advantage of some areas, weather and fuel," Piechura said.