Flying cars

A first: Flying car cleared for road

The U.S. Department of Transportation gave Massachusetts-based Terrafugia two important exemptions which would allow the company to offer its flying car — the Transition — to customers next year; the exemptions allow the company to use different tires and different laminated protective glass, and come on top of a 110 lb. allowance the FAA gave the company last year; these allowance and exemptions mean the flying car will not be treated as plane by the FAA, and those who fly it will not have to obtain a pilot license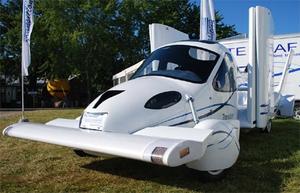 The Terrafugia Transition, parked // Source: engadget.com
The flying care is here. The Transition, from Woburn, Massachusetts-based Terrafugia, has received approval from the U.S. National Highway Traffic Safety Administration (NHTSA), thus clearing the way for delivery to customers sometime next year.
The Transition is the first combined flying-driving vehicle to receive such special consideration from the U.S. Department of Transportation (DoT) since the Federal Motor Vehicle Safety Standards came into being in the 1970s. The company says these exemptions pave the way for Terrafugia to begin deliveries once Terrafugia's Transition certification testing program is complete. The company says that it and industry partners also employ analysis and simulated crash testing to ensure that the Transition meets all other applicable crash safety standards.
"The Transition is the only light airplane to have undergone this high level of crash safety design and analysis," the company says. "It is also the first to incorporate automotive safety features such as a purpose-built energy absorbing crumple zone, a rigid carbon fiber occupant safety cage, and automotive-style driver and passenger airbags."
These DoT exemptions allow the Transition to use tires that are appropriately rated for highway speeds and the vehicle weight but are not ordinarily allowable for multi-purpose vehicles. The same tires were used successfully on the Transition Proof of Concept that was flight and drive tested in 2009. The exemption helps the company not only with regard to the car's tires. Traditional laminated automotive safety glass would add significant weight to the Transition and could fracture in such a way as to obscure the vision of the pilot in the event of a bird impact. The DoT exemption allows the use of polycarbonate materials that provide comparable protection to the occupants at significant weight-saving without shattering or crazing, thus improving the safety of the Transition.
In the exemption text, NHTSA states: "We further conclude that the granting of an exemption from these requirements would be in the public interest and consistent with the objectives of traffic safety."
In 2010, the Transition was granted an additional 110 pounds allowance by the Federal Aviation Administration (FAA) in a prior exemption action by the DOT.
The full text of the exemption as published in the Federal Register can be found in PDF and online.