Crisis in Egypt

Growing worries about security of Suez Canal

Published 1 February 2011

More than 35,000 ships crossed the Suez in 2009, about 10 percent of them oil tankers; if the Suez Canal were to close, oil tankers would be forced to sail around southern Africa — adding some 6,000 miles to the journey; this translates to an extra twelve days traveling from Saudi Arabia to Houston; based solely on speculation and risk, experts say the price of crude oil has gone up $5.00 a barrel since Friday; U.S. officials keep silent about how the United States might respond if Egyptian officials could no longer guarantee safe passage for the tens of thousands of ships that pass through the canal each year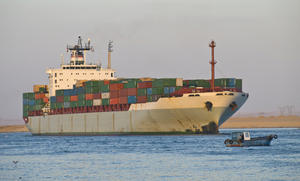 One among thousands of ships transiting the Suez annually // Source: planetware.com
U.S. officials do not want to talk about what might happen if the crisis in Egypt endangers international shipping — and many of the world's oil tankers — through the Suez Canal.
"I'm not going to get into a series of hypotheticals," White House press secretary Robert Gibbs said when asked how the United States might respond if Egyptian officials could no longer guarantee safe passage for the tens of thousands of ships that pass through the canal each year. More than 35,000 ships crossed the Suez in 2009, about 10 percent of them oil tankers. For now the canal remains open, and traffic is still flowing normally.
Marvin Kalb, a Fox News contributor and senior fellow at the Joan Shorenstein Center on the Press, Politics and Public Policy added, "The control of the Suez Canal is central, and it's been central now for 100 years. Why? Not only commerce from Europe to the rest of the world, but oil coming around from the Arabian Peninsula."
Fox News reports that if the Suez Canal were to close, oil tankers would be forced to sail around southern Africa — adding some 6,000 miles to the journey.
One analyst said that translates to an extra twelve days traveling from Saudi Arabia to Houston.
James Hamilton, professor of economics at UC-San Diego, said shutting down the Suez Canal today would not be as bad as the 1956-57 closure.
Hamilton points out there are now bigger tankers — too big for the canal — and pipelines.
The bigger issue, according to Hamilton, is whether the protests will spill over into other countries.
"If we did see something happening in places like Iran, or further difficulties in Iraq," Hamilton said.
Still, based solely on speculation and risk, experts say the price of crude oil has gone up $5.00 a barrel since Friday.
The Organization of the Petroleum Exporting Countries (OPEC) maintains the market is well supplied. "There are folks obviously in the NEC (National Economic Council) that are monitoring any impact that uncertainty or unrest has throughout the financial markets," Gibbs said.
"We have, thus far, to my knowledge, not seen disruptions in, for instance, in the Suez, which obviously is tremendously important to the movement of goods."