Mexico: descent into chaos

Gun used to kill ICE agent in Mexico was bought in Dallas

Hundreds of thousands U.S.-made fire-arms are bought at U.S. gun shows then smuggled into Mexico, making the drug cartels better-armed and better-equipped then than the police; the cartels not only fight each other in the open, but have now brazenly taken on the police and the military directly, making vast swaths of Mexico ungovernable and pushing Mexico closer to becoming a failed state; since December 2006, more than 32,000 Mexicans have been killed in war; on 15 February, a U.S. federal agent — ICE agent Jaime Zapata — was killed in an attack at a roadblock in the central Mexican state of San Luis Potosi; he was killed with a gun bought in Dallas, Texas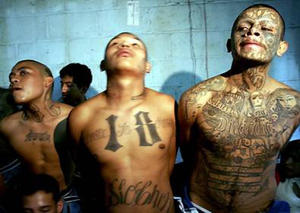 Members of Los Zetas // Source: wordpress.com
Federal investigators say the gun used to kill a U.S. immigration agent in Mexico has been traced to a Dallas-area man.
Agents of the U.S. Bureau of Alcohol, Tobacco, Firearms and Explosives arrested the man and two other suspected gun smugglers in Monday raids in Lancaster, Texas, a southern Dallas suburb.
ATF spokesman Tom Crowley is referring questions about further details to the U.S. Justice Department in Washington, D.C. The agency plans a news release. U.S. Immigration and Customs Enforcement agent Jaime Zapata was killed in the 15 February attack at a roadblock in the central Mexican state of San Luis Potosi. Agent Victor Avila was wounded.
Fox News reports that the U.S. arrests come on the same day Mexico announced it had captured a regional boss for the Zetas drug gang that is accused of slaying a U.S. immigration agent.
Mexican navy spokesman Jose Luis Vergara said that suspect Sergio Antonio Mora oversaw Zeta activities in the northern state of San Luis Potosi, where gunmen killed the U.S. agent and wounded another.
Vergara did not say whether Mora was involved in the 15 February attack that killed Jaime Zapata and wounded Victor Avila, both agents with U.S. Immigration and Customs Enforcement.
He said, however, that Mora, known as "El Toto," was the boss of Julian Zapata Espinoza, who was arrested last week and allegedly confessed that he took part in the shooting.
Mora and five other suspects, including a Honduran man, were detained Sunday at a hotel in Saltillo, capital of the northern state of Coahuila.
Much of northeastern Mexico has seen an increase in bloodshed as the Zetas battle their former allies in the Gulf cartel for control of drug trafficking and other criminal activity. Mexican authorities say Zapata Espinoza told them the two agents were attacked because they were mistaken for members of the rival cartel.
Vergara said Mora also is suspected in the February killing of Manuel Farfan, a retired army general who recently had become police chief in Nuevo Laredo, the city across the border from Laredo, Texas.
Federal police on Sunday also detained another alleged Zetas member, Luis Miguel Rojo, 27, in San Luis Potosi state. They did not said if he played a role in the attack on the U.S. agents.