Hand-held scanner checks 100 databases -- in one second

Hand-held scanner checks 100 databases -- in one second

Army guards at Fort Sam Houston are using a hand-held identity detector that taps information from more than 100 databases — in one second; the manufacturer says that the use of the device has resulted in 60,000 arrests since the start of 2004; Senator Schumer wants TSA to use the device at airports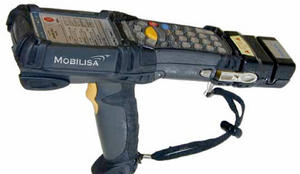 The Mobilisa checks 100 databases in seconds // Source: flickr.com
Army guards at Fort Sam Houston have a new weapon in their anti-crime arsenal, a hand-held identity detector that taps information from more than 100 databases — in one second. They have been using the scanners since last summer, checking the driver's licenses of non-military people coming onto the San Antonio base.
The Dallas Morning News's Ananda Boardman writes that some arrests have been made, but base spokesman Phillip Reidinger would not say how many or for what reasons. He called it an "enhancement to our protocols."
Now the company making the devices, Port Townsend, Washington-based Intellicheck Mobilisa, hopes to expand their use to border agents, the Transportation Security Administration (TSA) at airports, and more police departments, including those in North Texas.
The wireless, hand-held IM2500 Sentry scanner uses the bar coding or magnetic strip on the back of a driver's license or military ID to check identification from criminal and government databases. It can search for passengers on terror watch lists, weed out fake IDs, track visa overstays, and alert law officers of outstanding warrants.
"When you catch bad guys, we're happy," said Steve Williams, Intellicheck Mobilisa's chief operating officer.
More than six million scans are run a day and, he said, the scanners' help resulted in 60,000 arrests since the start of 2004. None of them, he said, was based on a mistaken identity by the scanners.
Critics of the program say they are concerned about the potential for abuse and have questioned the legality of a non-public company allowing others such deep access to classified personal information.
Williams acknowledged that "a lot of people think it's Big Brotherish," but he said safeguards are in place to ensure all privacy rights.
For instance, the scanner itself does not cache the information collected. It makes the scan, shows the results, and wipes the data before scanning the next ID, he said.
Boardman notes that none of the police departments in North Texas uses the scanners, which cost about $7,000 apiece, said Williams, who visited Fort Sam Houston last month to check on the program's status. Williams also promoted the program at a conference with airline executives.
Arizona, with its new anti-immigration law, is interested in the program for border patrols. Border security is "creating a new market" for the product, he said.
The company has also offered the program to port authorities and the TSA in airports as an alternative to body scans. "You can catch the bomb," Williams said of security programs like body scanners but "we're looking for the bomber."
Puget Sound Business Journal reports that sShares in Intellicheck Mobilisa Inc. soared 75 percent in trading last Monday after Senator Charles Schumer (D-New York) hinted that all or part of a $50 million contract could be headed to the company (see "Schumer pushing for new airport security scanning device," 29 June 2010 HSNW).
At a press conference last Monday at Intellicheck Mobilisa's New York office, Schumer said the U.S. Department of Homeland Security could increase security measures at New York City area airports. Intellicheck Mobilisa makes security systems for access control at airports, government, and commercial buildings and military installations.
Schumer said that there's $50 million in funding available for a pilot program to incorporate a new scanning device at airports and he recommended to DHS that the funds be used to buy technology such as Intellicheck Mobilisa's "Defense ID System."