UAV update

Hummingbird-sized UAV developed

Published 22 February 2011

A bird-sized unmanned aerial vehicle that flaps wings for propulsion and hovering has been developed by the U.S. company AeroVironment; The aircraft has a wingspan of 6.5 inches and has a total flying weight of two-thirds of an ounce, which is less than the weight of a common AA battery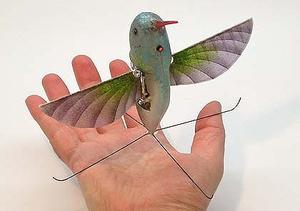 AeroVironment's hummingbird drone // Source: suasnews.com
A bird-sized unmanned aerial vehicle that flaps wings for propulsion and hovering has been developed by the U.S. company AeroVironment, Inc.
The milestone is part of the Phase II contract awarded by the Pentagon's Defense Advanced Research Projects Agency (DARPA) to AeroVironment to design and build a flying prototype "hummingbird-like" aircraft for the Nano Air Vehicle program.
"The success of the NAV program paves the way for a new generation of aircraft with the agility and appearance of small birds," said DARPA NAV program manager Todd Hylton.
UPI reports that the final concept demonstrator is called the Nano Hummingbird and is capable of climbing and descending vertically, flying sideways left and right, flying forward and backward, as well as rotating clockwise and counter-clockwise, under remote control and carrying a video camera payload.
AV said the Nano Hummingbird flew in and out of a building through a normal-size doorway during a demonstration.
The hand-made prototype aircraft has a wingspan of 6.5 inches and has a total flying weight of two-thirds of an ounce, which is less than the weight of a common AA battery.
Included in the statistics are all the systems required for flight: batteries, motors, communications systems and video camera.
AV said the aircraft can be fitted with a removable body fairing, which is shaped to have the appearance of a real hummingbird. The aircraft is larger and heavier than an average hummingbird but is smaller and lighter than the largest hummingbird found in nature.