Immigration

ICE opens office in northern Michigan

The U.S. Immigration and Enforcement agency (ICE) recently opened a permanent facility in northern Michigan; the new ICE office will provide work space for agents conducting enforcement removal operations (ERO) and homeland security investigations (HSI); the 10,000 square-foot facility will include an evidence-processing room, modern offices, and a short-term holding cell; the facility will help ICE agents secure America's northern border;a recent Government Accountability Report found that only thirty-two miles of the nearly 4,000 mile long northern border had "an acceptable level of security"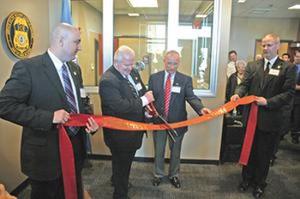 Ribbon-cutting at ICE's Sault Ste. Marie facility // Source: sooeveningnews.com
The U.S. Immigration and Enforcement agency (ICE) recently opened a permanent facility in northern Michigan.
The facility, in downtown Sault Sainte Marie, will help
ICE
agents secure America's northern border and enhance the agency's capabilities in Michigan.
In particular, the new ICE office will provide work space for agents conducting enforcement removal operations (ERO) and homeland security investigations (HSI). Brian M. Moskowitz, the special agent-in-charge of ICE HSI in Detroit, said, "We have had a presence in Sault Ste. Marie for years, and this new permanent site gives our special agents an expanded work environment and added resources to better carry out HSI's mission."
The 10,000 square-foot facility will include an evidence-processing room, modern offices, and a short-term holding cell.
According to Rebecca Adducci, the field office director for ICE ERO in Detroit, "This new office better equips our immigration enforcement agents with the tools they need to continue to target dangerous criminal aliens who pose a risk to national security and public safety."
A recent Government Accountability Report found that only thirty-two miles of the nearly 4,000 mile long northern border had "an acceptable level of security."
While much of U.S. resources and attention has focused on the southern border, the northern border has become a major point of entry for drug traffickers, currency smugglers, and illegal immigration due to its sheer size and limited patrols by border agents.