Liverpool police use thermal-imaging UAV to track and capture a car thief
Published 12 February 2010
Police in Liverpool used thermal-imaging device housed in a UAV to track down and capture a car thief; the technology allowed the operator to use live images of the suspect's body heat to guide other officers to the man's hiding place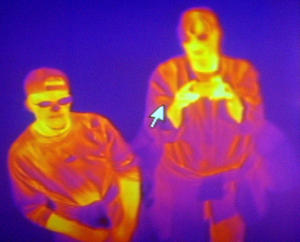 Thermal imaging produces a bright image against a cool dark background // Source: flickr.com
Thermal-imaging technology housed in a UAV has been used by police in Merseyside to arrest a suspected car thief. Two men suspected of stealing a Renault Clio in Bootle were tracked by the UAV, a remote-controlled aerial camera operated by a police officer on the ground.
After fleeing the vehicle, one man was immediately arrested while another hid in undergrowth. The Engineer reports that the UAV's onboard thermal-imaging technology allowed the operator to use live images of the suspect's body heat to guide other officers to the man's hiding place.
Merseyside Police is the only police force in Britain to operate a UAV and this was the first time since it was introduced last November that the specific use of its thermal-imaging camera led to an arrest.
Chief inspector Nick Gunatilleke from Merseyside Police's Anti-social Behavior Taskforce said:
"The UAV's thermal-imaging camera was particularly helpful in identifying where one of the suspects was hiding by detecting the body heat he was giving off. The live footage was being viewed by the UAV's operator in the mobile command vehicle close to the scene and they were able to then direct patrols on the ground to where the suspect was concealed.

We are the only police force in the country currently using a UAV like this and this is the first time the thermal-imaging equipment has led directly to an arrest since the UAV went live in November, so we are very pleased."