Terrorism in the Philippines

Lt. Col. Cabangbang flushes out Abu Sayyaf leader

Published 10 February 2011

Government forces killed an Abu Sayyaf leader in an encounter at a remote village in Basilan Island, southern Philippines on Tuesday; Abu Sayyaf, an Islamist separatist group founded in the 1990s with links to external terrorist organizations, has about 400 members at present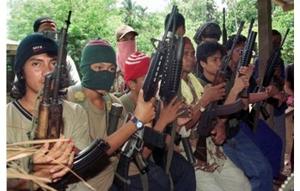 Abu Sayyaf fighters display their weapons // Source: allvoices.com
Government forces killed an Abu Sayyaf leader in an encounter at a remote village in Basilan Island, southern Philippines on Tuesday, 8 February 2011. The Philippines estimates that the Abu Sayyaf, an Islamist separatist group founded in the 1990s with links to external terrorist organizations, has about 400 members at present.
According to Lt. Col. Randolf Cabangbang, military regional spokesman for the Western Mindanao Command (Westmincom), soldiers raided the hideout of the Islamist separatist group leader in the village of Sinangkapan, a Tuburan town, at approximately 5:00 a.m.
The Abu Sayyaf leader, who was later identified as Suhud Tanadjalin, an alleged participant in the 2001 attack on Lamitan town, also in Basilan, was killed in a short firefight against the raiding forces.
Cabangbang said the encounter is part of the military campaign to flush out the al Qaeda linked militants in the province who are blamed in the spate of deadly bombings and kidnappings.