Mexico

Mexican town revolts, waging own battle against drug cartels

As Mexico's drug-related violence continues to grow, one remote Mexican town has decided to take matters into its own hands; the indigenous people of Purepecha have essentially established martial law in their small mountain town of Cheran, Mexico erecting checkpoints, shutting down schools, and running patrols; people have driven out the local police force and armed themselves with stolen police weapons to defend against the drug cartels and their cohorts; their actions come after illegal loggers, who residents say are backed by the drug cartels and the local police, killed two people and injured several others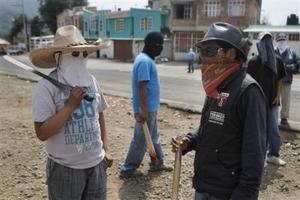 Townsmen of Cheran guard a barricade in town // Source: littlegreenfootballs.com
As Mexico's drug-related violence continues to grow, one remote Mexican town has decided to take matters into its own hands. People have driven out the local police force and armed themselves with stolen police weapons to defend against the drug cartels and their cohorts.
The indigenous people of Purepecha have essentially established martial law in their small mountain town of Cheran, Mexico erecting checkpoints, shutting down schools, and running patrols. Their actions come after illegal loggers, who residents say are backed by the drug cartels and the local police, killed two people and injured several others.
Illegal logging has long been a contentious issue for the Purepecha as loggers have cut down thousands of acres of trees that the indigenous people depend on for log cabins and traditional medicine.
According to David Pena, a lawyer who represents the town in protection lawsuits, illegal logging has affected 80 percent of the town's 44,500 acres of forest with some areas entirely devoid of trees.
Two years ago, the situation escalated when illegal loggers appeared to join forces with La Familia, a drug cartel based in Michoacán, and began travelling with armed convoys.
Since allegedly joining with the cartels, loggers have become more violent.
Rupert Knox, a researcher on Mexico with Amnesty International who is following events in Cheran, said, "Illegal logging has gone hand-in-glove with criminal gangs. They have moved into that sphere and controlled it with extreme brutality and corruption of local officials."
Violence began to erupt on 15 April when the people of Cheran captured five illegal loggers as they attempted to smuggle a truckload of illegal wood out of the town. In response, a few hours a later a group of armed men entered the town with local police to retrieve the loggers.
The gunmen shot one resident in the head and injured several others before the townspeople rallied and drove the attackers out.
The violence spiraled out of control on 27 April, when loggers appeared to retaliate by killing two Cheran men and wounding four others while they were out patrolling the woods.
Infuriated residents took matters into their own hands and stormed the local police headquarters. Armed with eighteen guns stolen from the police station, Cheran men barricaded the town and created checkpoints where they questioned all who sought to enter.
The local police has dissolved itself and the Cheran's mayor has largely kept quiet for fear of exacerbating the situation. In addition, the town's police chief was reportedly attacked and had his gun stolen.
Above one blockade, a banner reads, "We want peace and security."
"There is no fear here. Here we are fighting a David-and-Goliath battle because we are standing up to organized crime, which is no small adversary," said one young Cheran man wearing a red bandana.
Meanwhile another anonymous young man wearing a white bandana at a checkpoint appeared much more concerned.
"Everything is paralyzed out of fear that this gang might attack the children," said the man with the white bandana.
When interviewed by the Associate Press, nearly all the residents of the town of 16,000 chose to remain anonymous due to fears of retaliation.
Similar rebellions have occurred frequently in the past in Mexico's indigenous communities with locals demanding greater autonomy and accusing the government of neglect and corruption. In the Mexican state of Chiapas many communities successfully gained nearly full autonomy and maintain their own security after revolting in the 1990s.
The men manning the barricades in Cheran say they will not stop until the threat to their traditional way of life is defeated.
"This fight is not for a month or a year. It's for life," said the man in the white bandanna. "We don't believe there will be a quick solution."
He added that he hopes other local communities will be inspired by their actions and start fighting back against the cartels.
"We think it's difficult but not impossible," he said. "If they can start with Cheran, cutting down the forests, they will continue with other communities. And if the communities don't organize, in the end, they will destroy everything that for us is life."
To help resolve the issue Mexican officials met with community leaders to develop a long-term security plan. The government promised that it would establish two bases outside of the town to house troops as well as federal police and state police who will conduct patrols in the surrounding forests. Local residents will be left in charge of maintaining security within the town.