Disasters

Montana floods cause $8.6 million in damage to infrastructure

Towns in Montana have been hit particularly hard by floods, causing an estimated $8.6 million in damage to public infrastructure; officials expect that figure to increase in the coming weeks as flooding will continue for some time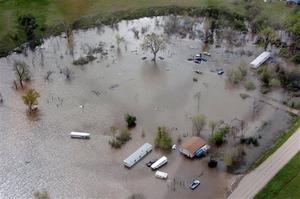 Spring floods pummel Montanans // Source: ledger-enquirer.com
On Friday emergency workers in boats delivered supplies to more than 300 people stranded by floods in Montana.
Towns in Montana have been hit particularly hard by floods, causing an estimated $8.6 million in damage to public infrastructure. Officials expect that figure to increase in the coming weeks as flooding will continue for some time.
Governor Brian Schweitzer's office put the exact damage estimate at $8,601,039. Of that money, state and local governments are responsible for $2,150,260. Severe rain storms and the runoff from record snowpacks have swollen rivers causing them to rise far above their banks.
Repair crews have begun pumping water out of downtown Roundup, but have not been able to make repairs to roads leaving many still stranded since waters rose in late May.
"As soon as the water comes down it comes back up. We're at the mercy of the river — and it's not so forgiving lately," said Casssie Degner, a local volunteer firefighter.
Governor Schwietzer has already declared a state of emergency and also issued a request for federal assistance in thirty-one counties and four Indian reservations.