As more U.S. embassies come under threat, ATG Access' bollards offer a solution
Published 27 January 2010
ATG Access offers bollards to meet every security level required and has products impact-tested at 30, 40, and 50 mph with vehicles ranging from 7.5 ton up to 18 ton; the company says that the latest addition to the product family is a fixed bollard that will dead-stop a 7.5 ton truck traveling at 50 mph; what is more, the foundation of the company's bollards is just 150 mm; with a foundation of only 20 cm (8 inches) deep — typical bollard requires 1.5 m (5 feet) — ATG's shallow mount can be installed on pavements, on top of bridges, or in locations where other ordinary products may be impossible to install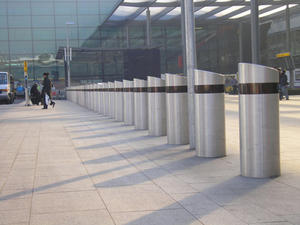 Security bollards // Source: www.designbuild-network.com
Two things brought Haydock, Merseyside, U.K.-based bollard maker ATG Access to mind. First, last year ATG Access acquired the U.S. vehicle barrier division of the Dutch group Boon Edam. ATG Access sister company ATG Access Inc. oversaw the transition. ATG Access's managing director Glenn Cooper said: "This acquisition forms part of the strategic development of ATG Access's business, and in particular, international presence. The transaction went through smoothly and efficiently. Our products and services are in great demand in the U.K. and overseas markets and this acquisition will increase our growth in North America."
Boon Edam Inc., a subsidiary of the Dutch company Royal Boon Edam Group Holding BV, also makes revolving doors, turnstiles, and other products at its Lillington facility. The company's work force in Lillington, North Carolina, totals 110, according to the Web site of the Harnett County Economic Development Corp. Lillington will serve as the company's U.S. headquarters.
"This move is a four-way win, for ATG, Boon Edam, Harnett County workers, and the county as a whole," Lee Anne Nance, director of the Harnett County EDC, said in a written statement. "We're very happy to have another company of such high reputation here in the county, and we're certainly glad that every employee retains a job."
The second reason we came to think of ATG Access were news reports about the decision by the United States and the United Kingdom to evacuate their embassies in Sanaa, Yemen, as a result of mounting terrorist threats.
Now, defending embassies, and other buildings, from explosives-filled trucks driven by suicide bombers is ATG Access's specialty. In fact, the company's bollards already protect one American embassy building: ATG Access SP1000 bollards now stand guard at the American consular office building in Edinburgh.
The company has installed more than over 250,000 bollards in the United Kingdom and other countries. It says that its anti-terrorist SP1000 product is becoming the preferred method of secure access control for government facilities and other areas at risk of attack by vehicle borne explosives.
Visitors to London will recognize to company's distinct bollards next to several projects around the center of London — not least of them Arsenal's Emirates Stadium in Islington. The company Web site offers details and pictures of other public buildings around the world which are now protected by its bollards.
ATG Access says it offers bollards to meet every security level required and has products impact-tested at 30, 40, and 50 mph with vehicles ranging from 7.5 ton up to 18 ton. The company says that the latest addition to the product family is a fixed bollard that will dead-stop a 7.5 ton truck traveling at 50 mph.
What is more, the foundation of the company's bollards is just 150 mm. This shallow mount technology is invaluable in towns and cities because it removes the problem of deep-digging which may disrupt underground services when installing the bollards.
The shallow foundation bollards are ideal for protecting approaches to buildings, drop-off and passenger loading areas at airports, ports, shop fronts, sports arenas, office buildings, and other locations where vehicle bombers have no obstacles to stop them. With a foundation of only 20 cm (8 inches) deep — the typical bollard requires 1.5 m (5 feet) — ATG's shallow mount can be installed on pavements, on top of bridges, or in locations where other ordinary products may be impossible to install.
Engineering spokesman for ATG Access David Sutton said, "The future of high security lies in shallow foundation products, in modern city centers the need for ultra strong products which are buried to a minimal depth is phenomenal and our SP range is streets ahead of the competition, we are extremely proud to have engineered a product that can perform to this level in such a shallow foundation."