Mumbai-like terror attack on European cities foiled
Published 29 September 2010
Al Qaeda- and Taliban-affiliated terrorists based in Pakistan planned a Mumbai-like attack on London and other European cities; experts say the plot is believed to have moved from the aspirational stage to actual planning; rather than set up explosives to blow up buildings, the terrorists would have used machine-guns and hand grenades to kill as many people as possible; improved Western intelligence capabilities made Western authorities aware of the plot, and as the organizers of the attack and the militants who were to carry it out gathered in Pakistan for training and last-minute instructions, a barrage of precise missile attacks from CIA drones — some 20 sorties in all — killed many of the plotters and disrupted their preparations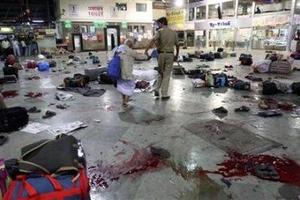 Aftermath of the 2008 Mumbai terror attack // Source: cnhada.com
Western Intelligence agencies have intercepted a terror plot to launch Mumbai-style attacks on Britain and other European countries. BBC security correspondent Frank Gardner says the plot is believed to have moved from the aspirational stage to actual planning.
Sky News's Tim Marshall reports that militants based in Pakistan were planning simultaneous strikes in London and other cities in France and Germany. Marshall quotes intelligence sources to say the plan was in an "advanced but not imminent stage" and the plotters had been tracked by spy agencies "for some time."
Marshall reports that the planned attacks against European targets would have been similar to the commando-style raids carried out in Mumbai by Pakistan-based gunmen in 2008 in that the terrorists, rather than set up explosives to blow up buildings, would have used machine-guns and hand grenades to kill as many people as possible. In Mumbai, the heavily armed militants launched an assault on various targets in the Indian city, killing 166 people ("India: Pakistan ISI behind Mumbai attacks," 14 July 2010 HSNW).
Several U.S. officials told the Wall Street Journal they have not seen a terror threat as serious as the European plot for many years. "This isn't just your typical Washington talk about how the threats have evolved. People are very concerned about what they're seeing," the counterterrorism official said.
"We know [Al Qaeda] wants to attack Europe and the United States," Director of National Intelligence James Clapper said in a statement late Tuesday. "We continue to work closely with our European allies on the threat from international terrorism, including Al Qaeda."
The BBC quotes security expert and former CIA officer Robert Baer to say that the latest threat to the West may be linked to the U.S.-led attacks on Haqqani insurgents — allies of the Taliban in Waziristan. "I think what we are facing here is a reprisal from the Haqqani network against the United States and Britain for the stepped-up aerial campaign in the tribal areas of Pakistan," he said.
"You have to look at the way these people look at the world. It is very tribal. They think they are in a feud with the West. They don't understand why they are under attack and they intend to take revenge."
CIA

drones disrupt plot

As intelligence on the plot — and the plotters — became clearer, the CIA launched a barrage of drone strikes in Pakistan to help thwart the plot.