Border security

New business: guided border tours

The increased attention to the security of the U.S.-Mexico border has caused many Americans to want to see for themselves what is going on along the border; this gave Tucson, Arizona-based Gray Line an idea, and the "Border Crisis: Fact and Fiction" tour is the result; the guided tour takes passengers to various points along the Arizona part of the U.S.-Mexico border; the trips will be offered twice a month, or upon request for large groups; the all day tours, which include lunch, cost $75 per person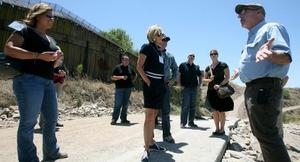 A stop along the tour route // Source: azstarnet.com
The increased attention to the security of the U.S.-Mexico border has caused many Americans to want to see for themselves what is going on along the border.
This gave Tucson, Arizona-based Gray Line an idea, and the "Border Crisis: Fact and Fiction" tour is the result.
"Take your own fact-finding mission on the U.S.-Mexico border," the promotional pamphlet from Gray Line Tours says. "Don't let the politicians and news broadcasters become your only source of information."
The Casa Grande Dispatch reports that Gray Line organized the excursion — the inaugural tour had twelve passengers on the bus — in conjunction with Humane Borders and the Santa Cruz Community Foundation. The trips will be offered twice a month, or upon request for large groups. The all day tours, which include lunch, cost $75 per person.