Pakistan: Several dozens of Europeans in terror training in Pakistan
Pakistan, Western intelligence agencies say several dozens Muslim militants with European citizenship are believed to be hiding out in the lawless tribal area of northwestern Pakistan, training for missions that could include terror attacks in European capitals; among the militants are at least twenty British and twenty German citizens; the groups voice-printing software enables British intelligence to identify and track specific individuals believed connected to terror plots; mobile phone communications have been tracked from the border area to points in Britain, particularly England's Midlands, where there is a heavy Pakistani immigrant population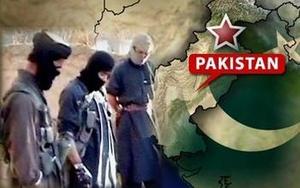 Pakistan gets increasing attention as terror training ground // Source: jamesnava.com
Dozens of Muslim militants with European citizenship are believed to be hiding out in the lawless tribal area of northwestern Pakistan, Pakistani and Western intelligence officials say, training for missions that could include terror attacks in European capitals.
Officials have used phone intercepts and voice tracking software to track militants with ties to Britain and other European countries to areas along the Afghan border. Al Qaeda would likely turn to such extremists for a European plot because they can move freely in and out of Western cities.
Fox News report that fear that such an attack is in the planning stage has prompted the U.S. State Department to advise Americans traveling in Europe to be vigilant.
American and European security experts have been concerned that terrorists based in Pakistan may be plotting attacks in Europe with assault weapons, similar to the deadly 2008 shooting spree in Mumbai, India. U.S. intelligence officials believe Osama bin Laden is behind the plots.
A senior official of Pakistan's Inter-Services Intelligence agency, or ISI, told the AP that there are believed to be "several dozen" people with European citizenship — many of Pakistani origin — among the Islamic extremists operating in the lawless border area.
The official, who spoke on condition of anonymity because he was not supposed to talk about classified information to the media, said foreigners in the area also include Chechens, Uzbeks, Arabs, and Turks, one of whom was a former F-16 pilot in the Turkish air force.
"That shows you that some of the people who are coming are very well educated," he said. "It was very surprising for us but they come thinking this is the pure (Islamic) ideology that they are seeking."
Britain's communications monitoring agency, the Government Communications Headquarters or GCHQ, estimates there are as many as twenty British-born militants in the border area, especially in the North Waziristan district that has been the focus of recent missile strikes carried out by unmanned aircraft operated by the CIA.
Mobile phone communications have been tracked from the border area to points in Britain, particularly England's Midlands, where there is a heavy Pakistani immigrant population, according to a British government official who spoke on condition of anonymity because the terror plot investigation is ongoing.
Voice-printing software enables British intelligence to identify and track specific individuals believed connected to terror plots, he said.
In addition, a spokeswoman with Germany's Federal Criminal Police Office said last week that there is "concrete evidence" that seventy people have traveled from Germany to Pakistan and Afghanistan for paramilitary training, and that about a third of them have returned to Germany.
Fox News reports that the presence in the border areas of Islamic militants with Western connections has been known for years.
Concern over the pool of Europeans capable of carrying out attacks abroad rose about a month ago when U.S. intelligence heard of a European plot and began monitoring the people involved, according to two U.S. officials. The CIA recently stepped up air strikes from unmanned aircraft in northwestern Pakistan, in part to disrupt the plot. In September there were at least twenty-one attacks — more than double the highest number fired in any other single month.
The plot apparently called for several gunmen to fan out across Germany, Britain, and France in hopes of launching attacks similar not only to the Mumbai assault but also to so-called "swarm attacks" that extremists have mounted in Kabul and other Afghan cities. The tactic calls for small teams with automatic rifles, grenade launchers, and suicide vests to strike simultaneously at several targets in a city and cause as much havoc as possible before they can be killed or captured.
Reports of the alleged plot again cast the spotlight on the Pakistani district of North Waziristan, where Washington believes al Qaeda and its allies plan attacks against U.S.-led forces in Afghanistan as well as targets abroad.
Although the Pakistani military has mounted ground operations elsewhere in the border region, it has been reluctant to do so in North Waziristan, saying its forces are stretched too thin. Some within Pakistan's military and intelligence establishment privately say an escalation in drone attacks in North Waziristan and recent cross-border incursions by NATO helicopter gun ships are aimed at forcing the army into an operation.
The incursions, however, have frayed relations between Pakistan and the United States and NATO. Pakistan has blocked its main border crossing to NATO supply trucks for the past four days in response to alleged incursions last week by NATO helicopters, including firing that shot dead three Pakistani paramilitary soldiers who had fired warning shots at the choppers.