Aviation security

Pilots zip through security with expedited TSA program

On Tuesday, the Transportation Security Administration (TSA) launched a trial program for its new screening system for airline pilots that does not require them to be scanned or searched for prohibited items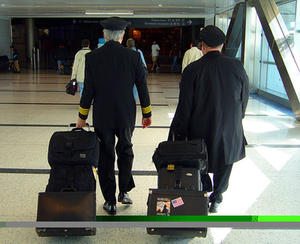 Pilots can now bypass security procedures // Source: docukit.nl
On Tuesday, the Transportation Security Administration (TSA) launched a trial program for its new screening system for airline pilots that does not require them to be scanned or searched for prohibited items.
The new program, dubbed Known Crewmember, made its first test run at Chicago's O'Hare International Airport where screeners checked pilots using laptop computers to verify their identities and employment status. Pilots are required to present multiple photo IDs, which are checked against real-time airline data. Once a pilot's identity is confirmed they then pass through a crew lane at each checkpoint without having to pass through metal detectors, full-body scanners, or pat downs. In addition their luggage is not subject to search.
"It was a very pleasurable experience. I didn't have to disrobe," said Sean Cassidy, a captain with Alaska Airlines and the first vice president of the Air Line Pilots Association International, the largest pilot union. "And the process helps the TSA redefine its focus on finding potential threats among passengers."
"This enhanced screening process recognizes the extensive background checks pilots receive," added Lee Moak, the president of the pilots union, in a statement.
Known Crewmember has been in development for the past four years, and TSA has been working in conjunction with the pilots union as well as the Air Transport Association of America, which represents most major airlines, to implement the program.
Previous TSA tests of the expedited pilot screening program used biometric verification, and some experts warn that the most current iteration of the program is flawed as it does not include biometrics like fingerprint or iris scans to verify a pilot's identity.
Airline officials were concerned that implementing biometric screening devices would make the program prohibitively expensive and therefore wanted to use the O'Hare test to determine if a pilot's identity could still be verified without biometric scans.
Airlines hope to expand the Known Crewmember program to all U.S. airlines and more test programs are scheduled to be launched at several airports across the United States including Miami International Airport, Boston Logan International Airport, and Phoenix Sky Harbor International Airport.
TSA is also developing a similar program for expedited screening for airline passengers. "Trusted travellers" must first be registered and undergo background checks, but once they have been approved these passengers will be able to undergo less thorough screening.
Officials have not stated what screening measures will be required of trusted travellers, but TSA plans on launching a trial program at two airports later this year.