Disasters

Plastic homes for quick rebuilding after disaster

Published 31 December 2010

Canadian company thinks it has an answer for Haitian relief; the company uses a rubber seal to attach the plastic structure to the concrete slab used as the foundation; the result is the structure "floats" atop the foundation in such a way it that can compensate for movements in the earth directly below, while the production process allows it to hold up against winds in excess of 240 kilometers per hour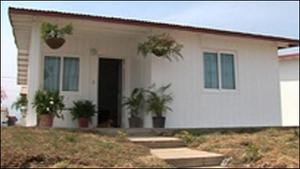 Plastic home in Venezuela // Source: bbc.co.uk
Combining large enterprise experience with small start-up ingenuity is helping Toronto-based Innovative Composites International Inc. (ICI) position itself as a housing provider for Haiti after an earthquake last January left as many as one million Haitians without homes.
The company, made up of former executives from companies such as Magna International Inc. and Chrysler Group LLC, is hoping to popularize the concept of a plastic house. Namely, that such houses are actually cheaper, stronger, greener, and far easier to assemble than those built using more traditional materials.
"Plastics now are a great structural material," said Terry Ball, the founding chief executive, who, until 2005, was the chief operations officer for Decoma Exterior Trim, Magna's plastics division.
"We've developed a bunch of products that take high-strength fibers, we combine them with low-cost plastics and provide structural applications to replace steel, concrete and wood with something that lasts [longer], is stronger, lighter and is completely recyclable."
The Vancouver Sun reports that the magnitude 7.0 earthquake that struck Haiti almost one year ago leveled more than 250,000 homes and left countless more damaged beyond repair. Under the stewardship of former U.S. president Bill Clinton, a $4 billion fund has been established to help jump-start the rebuilding process and ICI recently was named one of less than a dozen finalists.
The company bid as part of a consortium that includes U.S. partners 3D Global Solutions and Barclays Gedi Group, and it is expecting to hear results by early next year.
"When we think about Canadian technology, we usually think about wood-frame technology, but there is other technology [such as plastics] making its way into the framework as well," said Don Johnston, senior director of technology and policy for the Canadian Home Builders Association.
"But wood has challenges in tropical and warm climates in terms of having to be treated for decay and other things that aren't typically a problem here in Canada, so perhaps a plastics approach can overcome some of those challenges."
Jerry Olszewski, vice-president of engineering for ICI, believes it will. The former manager of applied materials technology for Chrysler boasts ICI components as being nearly impervious to common wood-afflicting ailments such as moisture, insects, rot and mould.
"What we're doing is constructing a building panel that is totally superior to any wood product," said Olszewski. "We can make [the material] hurricane proof and if necessary, earthquake proof."
ICI uses a rubber seal — similar to what Olszewski used in the