Plum Island bio lab an inviting target for terrorists
The bio lab on 840-acre Plum Island, a mile-and-a-half off Long Island's Orient Point, is a Biosafety level 4 facility — the only type of research lab authorized to handle diseases that are communicable between humans and animals and for which there is no known cure; from a boat, terrorists armed with shoulder-fired rockets would have a clear shot, or a plane could dive into the laboratory, dispersing deadly germs into an area from Massachusetts to New York; DHS has decided to build a new lab in Kansas to replace the aging Plum Island center, but some local politicians object, citing the local jobs that would be lost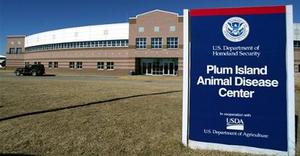 Plum Island Animal Disease Center off the coast of New York's Long Island // Source: answerstv.com
Residents of Long Island may not like to read this: Aafia Siddiqui was convicted by a jury in Manhattan in February of attempted murder. She holds a doctorate in neuroscience from MIT. The soldiers who captured her in Afghanistan in 2008 found hand-written notes in her possession about a "mass-casualty attack" and a list of targets: Wall Street, Brooklyn Bridge, Statue of Liberty, Empire State Building — and the Plum Island Animal Disease Center. Karl Grossman writes in the Huffington Post that also found in her possession were jars of poisonous chemicals and details on chemical, biological, and radiological weapons.
The bio lab on 840-acre Plum Island, a mile-and-a-half off Long Island's Orient Point, is a Biosafety level 4 facility — the only type of research lab authorized to handle diseases that are communicable between humans and animals and for which there is no known cure. Grossman notes that it was not the first time the Plum Island center appeared as an al Qaeda target:
In 2002

U.S.

Army commandos and

CIA

agents found a "dossier" containing "information on a place in New York called the Plum Island Animal Disease Center" in a raid on the Afghanistan residence of Sultan Bashiruddin Mahmood, a nuclear physicist from Pakistan and an associate of Osama bin Laden.
In 2003 the Government Accountability Office (

GAO

) reported there is a substantial risk that "an adversary might try to steal pathogens" from the center and use them against people or animals in the United States.

GAO

noted that a camel pox strain researched at the center could be converted into "an agent as threatening as smallpox," and the Venezuelan equine encephalitis virus studied there could be "developed into a human biowarfare agent."
The GOA emphasized that the center, which the DHS took over from the Department of Agriculture in 2003, "was not designed to be a highly secure facility."
Grossman writes that it can never be. "Plum Island sits exposed amid busy marine traffic lanes. The main Plum Island laboratory sits just behind a beach along which pass a line of boat traffic including ferries taking passengers between Orient Point and Connecticut," he writes. From a boat terrorists armed with shoulder-fired rockets would have a clear shot, or a plane could dive into the laboratory, dispersing deadly germs into an area from Massachusetts to New York.
DHS has already chosen Manhattan, Kansas, as the location of new biolab to replace the aging Plum Island research facility ("DHS is searching for buyers for Plum Island facility," 4 August 2009 HSNW), but New York politicians want the lab — and its jobs — to stay. In any event, it will take years to build the new lab.
The threat of a terrorist attack on Plum Island, sitting between Boston and New York City and just south of New London and Groton, Connecticut, remains. "Work on highly toxic pathogens should only be done at a heavily guarded facility inland, perhaps constructed underground — not on an island out in the open so close to this crowded area of the United States," Grossman concludes.