Law-enforcement technology

Police robot seeks out the bad guys

Police units in California use DHS grants to buy a robot to go into dangerous places to look for bad guys; the $12,000, 25-pound robot is waterproof, equipped with a 360-degree camera and tracks for movement; it climbs stairs, runs on grass and gravel, and can right itself if it flips over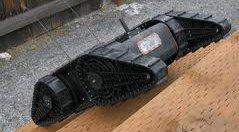 The basic RoboteX, ready for additions // Source: robotex.us
When James Durrah locked himself inside a Fontana, California, house during a standoff earlier this month, SWAT officers first used a rather medieval method — a battering ram — to break down the front door. They followed that up, though, with one of the most state-of-the-art law enforcement tools, the Robotex robot, from Palo Alto, California-based Robotex, one of many new gadgets changing the way police agencies fight crime.
The San Bernadino Sun's Lori Consalvo writes that the machine, equipped with front and back cameras, infrared lighting, and a speaker, was sent into the residence instead of a police officer.
"We use it to search an area for potential bad guys (and) give locations of where they might be without putting an officer in harm's way," Fontana police Sgt. Billy Green said. The robot does not have a husband, wife, or kids.
"As the technology advances, we encounter more sophisticated criminals," Green said. Such criminals encourage departments to develop even better technology, he said, and the cycle continues.
This incident, with the arrest of Durrah, was the first time the robot — purchased in July with DHS grants — was used by the SWAT team, Green said.
The 25-pound robot is waterproof but not bulletproof. It is equipped with a 360-degree camera and tracks for movement.
It climbs stairs, runs on grass and gravel, and can right itself if it flips over. It is operated like a remote-controlled car with a video screen on the handset.
Specialized training is not necessary to handle the $12,000 device.