Portland reconsiders relations with FBI's terrorism task force
Published 1 December 2010
Five years ago the mayor of Portland, Oregon, decided not to participate in the FBI's Joint Terrorism Task Force because of concerns about civil liberties; the past weekend's capture of a 19-year old after he attempted to detonate what he thought was a vehicle bomb near a tree-lighting ceremony in Portland's Pioneer Courthouse has led the mayor to reconsider his decision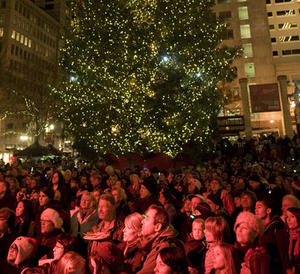 Foiled bomb plot may lead to mayor's change of heart // Source: oregonlive.com
Four days after the arrest of a suspected terrorist in Portland, Oregon, Mayor Sam Adams is rethinking a decision he made five years ago not to participate in the FBI's Joint Terrorism Task Force, according to officials.
CNN reports that apparently the mayor was so impressed with how well the city's police worked with the FBI to capture Mohamed Osman Mohamud, he has requested a meeting with federal officials to discuss the matter, said communications director Roy Kaufmann.
The 19-year-old was arrested Friday after he attempted to detonate what he thought was a vehicle bomb near a tree-lighting ceremony in Portland's Pioneer Courthouse Square, law enforcement officials said.
Kaufmann said concerns over civil rights issues led to Adams's decision not to become a member of the regional joint task force, which is composed of representatives from local, state and federal agencies.
"It's a very precarious battle between civil rights and security," said Kaufmann, "and we want to make sure that people's civil rights are not violated." New leadership in the Justice Department and the White House has been cited as a reason for the mayor wanting to revisit his decision, Kaufmann said.