Egypt in crisis

Pro-government demonstrators clash with opponents

Published 2 February 2011

Thousands of pro-government demonstrators appear in Egypt's major cities and clash with anti-government demonstrators; the anti-Mubarak protesters have been accusing the army of moving aside to let their pro-government rivals enter streets and square where anti-government protesters congregate; in a statement, Egypt's army called for demonstrators to return to their homes; meanwhile, Internet services were returning to the country, having been cut off for days by the government; state television also reported an easing of a nationwide curfew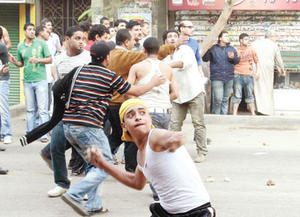 Pro- and anti-Mubarak forces clash in Egypt // Source: hurriyetdailynews.com
For the first time since the anti-Mibarak demonstrations began a week and a half ago, supporters of the Egyptian president showed up in major Egyptian cities and clashed with demonstrators calling on him to step down immediately.
Rival groups of protesters are fighting pitched battles in and around Cairo's Tahrir Square. Many people have been wounded and shots have been heard.
Earlier, the army urged people to return home after nine days of anti-government demonstrations. Leaders of the anti-Mubarak movement have charged that many of the pro-Mubarak demonstrators are security services personnel dressed in street clothes. Three days ago, the same leaders charged that the security serviced had released 1,500 criminals from jail with instructions to burglarize homes and businesses in order to force demonstrators to abandon the streets so they can protect their homes and work places.
Mubarak, on Tuesday, has pledged he will not stand for re-election in September.
Also on Tuesday, hundreds of thousands had protested across the country against Mubarak, the culmination of more than a week of demonstrations that have left about 300 people dead according to UN estimates.
Up to 2,000 anti-Mubarak demonstrators spent Tuesday night in Tahrir Square, the main focus of the protests, saying the president's pledge was insufficient and chanting: "We will not leave!"
The BBC reports that on Wednesday, thousands of supporters of Mubarak surged into the square, dismantling barricades.
"You guys have made your point clear, let the man (Mubarak) take care of you until his time is up. Mubarak wants stability and we want stability as well," said Mohamed Shafik. "Let Egyptians go home and look after their families," the 51-year-old pharmacist told Reuters news agency.
Television footage showed opposing groups facing off, chanting slogans. They later hurled stones at each other and fought with stick and bottles.
Some government supporters rode horses and camels and wielded whips.
Gunfire was heard. Some reports say troops fired warning shots to disperse the crowds.
Ibrahim Zadran, co-ordinator of the opposition National Association for Change, told the BBC that some pro-government activists had used firearms and shot fifteen protesters.
BBC Middle East editor Jeremy Bowen, who is in Tahrir Square, said the clashes were becoming increasingly violent and he had seen people with nasty wounds.
The anti-Mubarak protesters have been accusing the army of moving aside to let in their pro-government rivals.
The troops guarding the square have not intervened. The crowds of protesters began to thin after the fighting broke out.
Clashes between the rival groups were also reported in Egypt's second city, Alexandria.
The violence drew condemnation from British prime minister David Cameron.
"If it turns out that the regime in any way has sponsored or tolerated this violence, that is completely unacceptable," he said after meeting UN secretary general Ban Ki-moon in London.
Ban said: "Any attack against the peaceful demonstrators is unacceptable and I strongly condemn it."
In Washington, the state department reiterated a call for all sides to show restraint.
In its earlier statement, Egypt's army called for demonstrators to return to their homes.
"Your message has arrived, your demands became known… you are capable of bringing normal life to Egypt," said a spokesman in a message broadcast on state television.
In Tuesday night's speech, Mubarak had promised to leave at the next polls, and pledged constitutional reform, saying he would devote his remaining time in power to ensuring a peaceful transition to his successor.
President Barack Obama responded by saying an orderly transition "must begin now," while Turkey's PM Recep Tayyip Erdogan said Mubarak should take a "different step."
Opposition leader Mohamed el Baradei dismissed Mubarak's move as "a trick" to stay in power, and Tahrir Square protesters have vowed to continue their demonstrations until Mubarak quits.
Abdelhalim Kandil, leader of Egypt's Kifaya (Enough) opposition movement, said Mubarak's offer not to serve a sixth term was not enough.
"I will tell you very simply that there is an unprecedented popular movement that rejects the presence of the president on a scope that has not been seen before, that is calling for the will of the people to be imposed," he said.
If Mubarak does not step down, demonstrators have planned to march on the presidential palace.
Meanwhile, Internet services were returning to the country, having been cut off for days by the government.
State television also reported an easing of a nationwide curfew — with restricted hours from 17:00 to 07:00, rather than 15:00-08:00.