Biodefense

Promising anthrax treatment study results

Researchers find that a multi-agent prophylaxis which is initiated within twenty-four hours after the infection, prevented the development of fatal anthrax respiratory disease; treatment which combines antibiotics with immunization and a protective antigen-based vaccine offered long-term immunity against the disease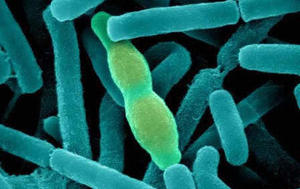 The bacterium Bacillus anthracis // Source: ibtimes.com
Good news on the anthrax front. According to a study in the April 2011 issue of the journal Antimicrobial Agents and Chemotherapy, a multi-agent prophylaxis which is initiated within twenty-four hours after the infection, prevented the development of fatal anthrax respiratory disease. Treatment which combines antibiotics with immunization and a protective antigen-based vaccine offered long-term immunity against the disease. Infection Control Today reports that the research was performed by Israeli scientists at the Israel Institute for Biological research in Ness Ziona.
The researchers emphasized that combining antibiotic treatment with a protective antigen vaccine, and starting the treatment no longer than twenty-four hours after infection, left all animals fully protected even after the end of treatment. The researchers found that:
Animals whose treatment was delayed beyond twenty-four hours post-infection developed varying degrees of bacteremia and toxemia
Treatment with doxycycline cured both sick guinea pigs and rabbits exhibiting low to moderate bacteremia
Adding protective antigen vaccine to the mix boosted the level of bacteremia that was curable 10-fold in the guinea pigs and 20-fold in the rabbits
Ciprofloxacin plus a monoclonal anti-protective antigen antibody, however, was still more effective.
— Read more in Shay Weiss et al., "Antibiotics Cure Anthrax in Animal Models," Antimicrobial Agents and Chemotherapy 55, no. 4 (April 2011): 1533-42 (doi:10.1128/AAC.01689-10)