Secure Communities to have greater impact than Arizona immigration law
Since 27 October 2008 through the end of May 2010, almost 2.6 million people have been screened with Secure Communities; of those, almost 35,000 were identified as illegal immigrants previously arrested or convicted for the most serious crimes, including murder and rape; more than 205,000 who were identified as illegal immigrants had arrest records for less serious crimes; during an eight-month period between 1 October 2009 to 7 June 2010, ICE figures show that 113,453 foreign nations with criminal records had been deported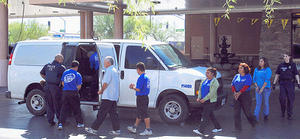 The Secure Communities program has led to tens of thousands of arrests and deportations // Source: feetintwoworlds.org
The U.S. federal government is rapidly expanding a program aiming to identify illegal immigrants using fingerprints from arrests, drawing opposition from local authorities and advocates who argue the initiative amounts to an excessive dragnet.
The program, called Secure Communities, has received less attention than Arizona's new immigration law, but it may end up having a bigger impact because of its potential to round up and deport so many immigrants nationwide.
The San Francisco sheriff wanted nothing to do with the program, and the City Council in Washington, D.C., blocked use of the fingerprint plan in the nation's capital (("Law enforcement questions reporting jailed illegal immigrants to feds," 9 June 2010 HSNW). Other states could not wait to implement the program ("ICE activates Secure Communities in ten more west Texas counties," 12 July 2010 HSNW; and "Florida implements ICE's Secure Communities program," 6 July 2010 HSNW). Michael W. Meade, ICE field office director in Miami, recently announced that booking centers in all sixty-seven Florida counties are now linked to ICE's biometric databases for quicker identification of immigration records.
Colorado is the latest to debate the program, and Santa Cruz County Jail will implement it next month.
AP reports that immigrant groups have begun to speak up, telling the governor of Colorado in a letter last week that the initiative will make crime victims reluctant to cooperate with police "due to fear of being drawn into the immigration regime."
Under the program, the fingerprints of everyone who is booked into jail for any crime are run against FBI criminal history records and DHS immigration records to determine who is in the United States illegally and whether they have been arrested previously. Most jurisdictions are not included in the program, but Immigration and Customs Enforcement (ICE) has been expanding the initiative.
Since 2007, 467 jurisdictions in 26 states have joined. ICE has said it plans to have it in every jail in the country by 2013. Secure Communities is currently being phased into the places where the government sees as having the greatest need for it based on population estimates of illegal immigrants and crime statistics.
Since everyone arrested would be screened, the program could easily deport more people than Arizona's new law, said Sunita Patel, an attorney who filed a lawsuit in New York against the federal government on behalf of a group worried about the program. Patel said that because illegal immigrants could