Sensors

Sensors printed on wetsuits detect explosives, other hazards

UC Sand Diego researcher has successfully printed thick-film electrochemical sensors directly on flexible wetsuit material, paving the way for nano devices to detect underwater explosives or ocean contamination; UCSD has a full U.S. patent pending on the technology, and has begun talks on licensing the system to a Fortune 500 company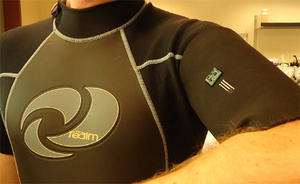 Flexible sensors printed on neoprene wetsuit sleeve // Source: calit2.net
Breakthroughs in nanoengineering often involve building new materials or tiny circuits. A professor at the University of California, San Diego, however, is proving that he can make materials and circuits so flexible that they can be pulled, pushed, and contorted — even under water — and still keep functioning properly.
Joseph Wang has successfully printed thick-film electrochemical sensors directly on flexible wetsuit material, paving the way for nano devices to detect underwater explosives or ocean contamination.
"We have a long-term interest in on-body electrochemical monitoring for medical and security applications," said Wang, a professor in the Department of NanoEngineering in UC San Diego's Jacobs School of Engineering. "In the past three years we've been working on flexible, printable sensors, and the capabilities of our group made it possible to extend these systems for use underwater."
Wang notes that some members of his team — including electrical-engineering graduate student Joshua Windmiller — are surfers. Given the group's continued funding from the U.S. Navy, and its location in La Jolla, it was a logical leap to see if it would be possible to print sensors on neoprene, the synthetic-rubber fabric typically used in wetsuits for divers and surfers.
A university of California-San Diego release reports that the result is the development of "wearable electrochemical sensors for in situ analysis in marine environments." The paper, published last month in the journal Analyst , was co-authored by UCSD's Wang, Windmiller, and visiting scholar Gabriela Valdés-Ramírez from Mexico, as well as Michael J. Schöning and Kerstin Malzahn from the Institute of Nano- and Biotechnologies of Germany's Aachen University of Applied Sciences.
UCSD has a full U.S. patent pending on the technology, and has begun talks on licensing the system to a Fortune 500 company.
Wang's 20-person research group is a world leader in the field of printable sensors. To prove that the sensors printed on neoprene could take a beating and continue working, some of Wang's colleagues took to the water.
"Anyone trying to take chemical readings under the water will typically have to carry a portable analyzer if they want to detect pollutants," said Wang, whose group is based in the California Institute for Telecommunications and Information Technology (Calit2) at UCSD. "Instead, we printed a three-electrode sensor directly on the arm of the wetsuit, and inside the neoprene we embedded a 3-volt battery and electronics."
The electrochemical sensors are based on applying voltage to drive a reduction-oxidation (redox) reaction