Update

Terrorism could be threat to World Cup

Soccer fans who go to South Africa next month for the World Cup already must be doubly cautious and watchful as they go to a country which is the world's undisputed leader in most categories of violent crime; those who think of partying after games will be given brochures at their hotels telling them that 1 in 10 South Africans is infected with the HIV virus; security experts are now alarmed over revelations that an al Qaeda cell in Iraq was planning terror attacks on Danish and Dutch supporters and the Danish and Dutch teams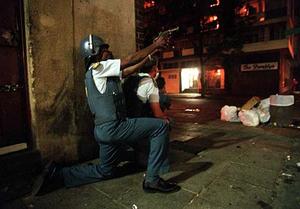 South African police in action // Source: dailymail.co.uk
The World Cup could be vulnerable to a terrorist attack, despite repeated South African assurances that the tournament is safe and the discovery of what looks like a half-baked plot hatched in Iraq. The recent arrest in Iraq of Abdullah Azzam al-Qahtani, an al Qaeda supporter who says he was planning an attack on the Dutch and Danish teams, has revived debate on whether the soccer spectacular in South Africa faces a threat of this kind.
MoneyControl reports that South African officials have long said their respected non-aligned status and the lack of any substantial local support for militant groups should insulate them from terrorism.
The government and soccer's governing body FIFA, which is cooperating with foreign security agencies and Interpol, say no viable threat has been identified.
Although most experts say Qahtani's scheme appeared far from posing a serious threat, they believe terrorism cannot be ruled out because of the huge attention that even a small attack would get during the 11 June 11 July World Cup.
"It is the biggest sports event in the world. Although South Africa might think we are beyond the interests of groups like al Qaeda, the event is the target, not the country," said Anneli Botha, from the Institute of Security Studies in Pretoria. "What makes South Africa so unique? We are not involved in Iraq or Afghanistan, but unfortunately the tremendous media coverage you are going to get will definitely attract not only al Qaeda but I think even smaller groups," she told Reuters.
AP reports that Dutch security officials said they are taking seriously the threat to soccer fans. The Dutch anti-terrorism office and Danish authorities said they are not yet planning any new security measures in response.
Judith Sluiter of the Netherlands' anti-terrorism coordination office says the comments made by Abdullah Azam Saleh al-Qahtani were in line with her agency's perception of potential threats. "Dutch interests abroad are more at risk than they are inside this country at the moment," Sluiter said. "Here, they're limited, but abroad, they're substantial."
Al-Qahtani said he considered attacking the Dutch and Danish teams or fans to avenge perceived insults to Islam. "We discussed the possibility of taking revenge for the insults of the prophet by attacking Denmark and Holland," al-Qahtani told the AP. "If we were not able to reach the teams, then we'd target the fans."
Al-Qahtani, a Saudi citizen, was arrested in Iraq on 3 May after a note he had written detailing similar plans was found at a house where two leading al Qaeda suspects were killed in April.
Dutch citizens are considered potential targets in part due to an anti-Islam film made by right-wing Dutch politician Geert Wilders. Similarly, Danes have been considered at risk due to the publication of cartoons featuring Islam's prophet Mohammed.
Vish Naidoo, a spokesman for South African police, said the report from Baghdad would not affect World Cup security planning because terrorism had always been part of the calculations.
Interpol, the international police coordination agency, is sending 200 experts to assist at the tournament, while each of the thirty-one visiting teams will be sending up to eight officers to work with South African counterparts.
South Africa has trained 44,000 extra police for the event.
Sluiter said her agency was in touch with intelligence agencies about potential threats and "keeping its finger on the pulse."
The Netherlands national team departs for a pre-tournament training camp in Switzerland on Wednesday. Denmark captain Jon Dahl Tomasson declined to comment on the terrorism threat. "I think we should focus on one thing, and that is we are heading out to play great football," the Feyenoord striker said.
Other experts say that swine flu poses a greater threats to the people who come to South Africa to watch the games. The Daily Mail reports that these experts have warned organizers that the South African government has underestimated the risk of swine flu spreading during the tournament as the country moves from summer to winter.
The South African public health system is dysfunctional, and there are hardly any stocks of vaccinations for the H1N1 virus.