Aviation security

TSA will miss 1 August air cargo screening deadline

TSA will miss the congressionally mandated 1 August deadline of having 100 percent of cargo carried on planes screened; all cargo loaded onto passenger planes departing from domestic airports will be checked for explosives by the deadline, but screening all international cargo entering the United States has proved more challenging; the reason: an estimated 2.8 billion pounds of air cargo arrives in the United States every year on passenger aircraft from 94 different countries; the cargo is handled in the global air cargo supply chain by a vast number of participants; each of these 94 countries has unique air cargo security programs and regulatory requirements, many of which differ significantly from those required by TSA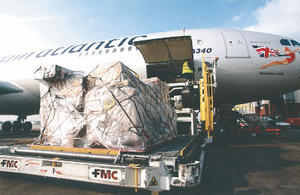 Air Cargo continues to shipped largely unchecked // Source: newbreed.co.uk
The United States should recognize other countries' air cargo security programs that meet domestic standards for screening, an official with the Transportation Security Administration (TSA) told lawmakers last Wednesday, after noting TSA would not meet the August deadline for screening all U.S.-bound cargo.
Nextgov's Jill R. Aitoro quotes John Sammon, assistant administrator for transportation sector network management at TSA, who testified before the House Homeland Security Subcommittee on Transportation Security and Infrastructure Protection, to say that all cargo loaded onto passenger planes departing from domestic airports will be checked for explosives by the 1 August deadline, but that screening all international cargo entering the United States has proved more challenging, said.
"The challenges presented by the international setting have made it unlikely that Congress' ambitious schedule for 100 percent screening could be met with respect to inbound air cargo," Sammon said in testimony. "The genesis of the challenge is simple: An estimated 2.8 billion pounds of air cargo arrives on passenger aircraft from 94 different sovereign nations annually via a global air cargo supply chain with a vast number of participants. Those 94 nations have unique air cargo security programs and regulatory requirements, many of which differ significantly from those required by TSA."
Lawmakers set the requirement for comprehensive screening — either through a physical examination or more nonintrusive methods such as X-ray machines and explosives detection systems — as part of the 2007 9/11 Commission Act. (see "Air cargo screening faces difficult test as screening deadline looms," 28 May 2010 HSNW).
Aitoro writes that under Sammon's proposed strategy for meeting the target, airlines flying into the United States could adhere to either the TSA security program or a foreign country's commensurate security program.
Foreign governments' inspection procedures also should be recognized, Sammon added. "TSA cannot enter and inspect in foreign countries without the consent of the host country, and even with consent, would not have nearly the same level of access as we have in the United States," he said. "As with other aspects of international screening we will have to rely on foreign government programs to validate that the screening is occurring as required. This can only be accomplished through the recognition and acceptance of [national cargo security programs], through which we would have access to their inspection data."
According to a Government Accountability Office study, TSA officials estimated that 55 percent of inbound cargo is being screened and 65 percent will be screened by August.
Steve Lord, director of homeland security and justice issues at GAO, noted these estimates are not based on actual data collected from air carriers or other entities, such as foreign governments."
Harmonizing TSA regulatory standards with those of foreign governments could be challenging, according to the GAO report, because these efforts are voluntary and some foreign countries do not share the United States' concerns regarding air cargo security threats and risks.