Breaking news

UN indicts Hezbollah chiefs in Hariri assassination

Published 17 January 2011

Prosecutor for international tribunal investigating assassination of former Prime Minister Hariri files indictment with pre-trial judge; Nasrallah threatens to "cut off the hands" of anyone attempting arrest of Hezbollah members; turmoil grows following last week's collapse of government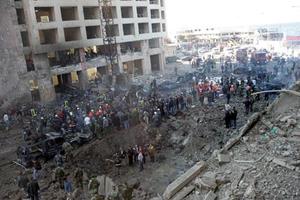 Scene of the detonation of 1000 kg of explosives used in assassination // Source: freedomist.com
The prosecutor of the UN Special Tribunal for Lebanon issued a draft indictment on Monday over the 2005 killing of former prime minister Rafik al-Hariri and 21 others
The contents of the draft indictment, which will now be reviewed by pre-trial judge Daniel Fransen, were not revealed, and details of the charges may not emerge for another several weeks, when Fransen is expected to decide whether there is enough evidence to proceed with a trial. Another blow to stability in Lebanon, already in crisis when the government collapsed last week after ministers from the Shi'ite Hezbollah group and its allies walked out of Prime Minister Saad al-Hariri's coalition, increases the potential for sectarian violence.
Anticipating the filing, Hezbollah leader Hassan Nasrallah in a Sunday evening address threw down the gauntlet, rejecting the re-nomination of Saad Hariri as Prime Minister, vowing to defend the Shiite group's members against the indictments, and calling for a "Lebanese solution" to the crisis, devoid of international interference.
Nasrallah warned repeatedly that after the indictments will be "too late" to strike a deal to avoid plunging Lebanon deeper into turmoil, and threatened to "cut off" the hands of anyone attempting to arrest Hezbollah members.
Adding to the building tension, the Lebanese TV station Al-Jadid broadcast an audiotape of a 2005 meeting in which Saad Hariri, a UN investigator, and a Lebanese security official met with one of the so-called "false witnesses" in the UN investigation. The taped discussion will cast further doubt on the tribunal's credibility at a key turning point in the UN process.
"The prosecutor of the tribunal has submitted an indictment and supporting materials to the pre-trial judge," the U.N.-backed tribunal said in a statement. The documents were handed to the registry, but added that the contents of the indictment will remain unpublished at this stage.
It has been expected for some time that the Special Tribunal for Lebanon, or STL, would indict Hezbollah members in the assassination, a prospect Lebanese politicians fear could fuel further tensions. Hezbollah has repeatedly denied any involvement in the killing.