Iran's march to the bomb

UN: Iran has fuel for two nuclear weapons

IAEA says Iran has enough nuclear fuel for two nuclear weapons; the toughly worded IAEA report says that Iran has expanded work at one of its nuclear sites; it also describes, step by step, how inspectors have been denied access to a series of facilities, and how Iran has refused to answer inspectors' questions on a variety of activities, including what the agency called the "possible existence" of "activities related to the development of a nuclear payload for a missile"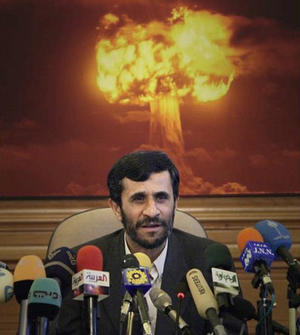 Iranian President Mahmoud Ahmedinejad // Source: sanfranciscosentinel.com
In their last report before the UN Security Council votes on sanctions against Iran, international nuclear inspectors declared Monday that Iran has now produced a stockpile of nuclear fuel that experts say would be enough, with further enrichment, to make two nuclear weapons.
The report, by the International Atomic Energy Agency (IAEA), am agency of the United Nations, appears likely to bolster the Obama administration's case for a fourth round of economic sanctions against Iran and further diminish its interest in a deal, recently revived by Turkey and Brazil, in which Iran would send a portion of its nuclear stockpile out of the country.
When Iran tentatively agreed eight months ago to ship some of its nuclear material out of the country, the White House said the deal would temporarily deprive Iran of enough fuel to make even a single weapon.
The New York Times's David E. Sanger and William J. Broad write that Iran delayed for months, and the figures contained in the inspectors' report on Monday indicated that even if Iran now shipped the agreed-upon amount of nuclear material out of the country, it would retain enough for a single weapon, undercutting the American rationale for the deal (we made the same point two weeks ago; see Ben Frankel, "Cunning Iran wins again," 20 May 2010 HSNW).
The toughly worded IAEA report says that Iran has expanded work at one of its nuclear sites. It also describes, step by step, how inspectors have been denied access to a series of facilities, and how Iran has refused to answer inspectors' questions on a variety of activities, including what the agency called the "possible existence" of "activities related to the development of a nuclear payload for a missile."
A spokesman for the White House, Michael Hammer, said in a statement on Monday that the report "clearly shows Iran's continued failure to comply with its international obligations and its sustained lack of cooperation with the I.A.E.A." He said the report "underscores that Iran has refused to take any of the steps required of it" by the Security Council or the I.A.E.A.'s board of governors, "which are necessary to enable constructive negotiations on the future of its nuclear program."
Iran, which insists that its nuclear program is for peaceful purposes, has said that it has conducted no work on weapons, and argues that the evidence of work on warheads is forged.
Sanger and Broad note that Iran's nuclear