Explosives detection

U.S. Army buys Raptor's MIPs-based detectors

Published 30 September 2011

Molecularly imprinted polymers (MIPs) technology is capable of selectively sensing microscopic amounts of explosives or other molecules that are dangerous for humans and the environment, such as toxins, chemical agents, biological agents, pesticides, and poisons; the U.S. Army wants more MIPs detectors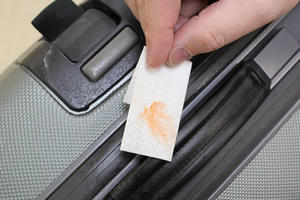 Orange stain on wipe indicates presence of explosive // Source: raptordetectiontech.com
Columbia, Maryland-based Raptor Detection Technologies said it has been contracted to supply its line of Substance Activated Fast Evaluation Technology (SAFE-T) products to the U.S. Army Armament, Research, Development, and Engineering Command. The contract vehicle is with SOSSEC, Inc., a consortium of homeland security and technology firms of which Raptor is a member. The award comes one month after Raptor was awarded a significant contract by the U.S. Navy's Explosive Ordnance Division (NAVEOD).
"This new award confirms the Army's support of Raptor's SAFE-T products and the Company's ability to successfully bring SAFE-T products to full operational readiness with a goal of becoming a program of record," said Dr. Jonathan Gluckman, general manager and executive vice president of Raptor. "The detection capability we are developing jointly with the Army will enhance greatly the ability of our warfighters to meet the global terrorist threat."
According to Dr. Gluckman, Raptor will continue the spiral development program with the Army designed to expand the detection library and attract participation of other government agencies involved in counterterrorism.
Raptor's SAFE-T products are based on a patented nanotechnology called molecularly imprinted polymers (MIPs). MIPs are capable of selectively sensing microscopic amounts of explosives or other molecules that are dangerous for humans and the environment, such as toxins, chemical agents, biological agents, pesticides, poisons, and explosives. Initially developed at the Johns Hopkins University Applied Physics Laboratory (JHU/APL), Raptor's SAFE-T MIPs produce a color change reaction that is visible with the naked eye when they detect target molecules — such as dangerous materials used in terrorist attacks. If a trace amount of explosive material is present on a person's skin, or finger, for example, it may capture a visible, colorful fingerprint when it touches MIP material. This color change is visibly detectable within seconds of exposure.
The company says that its SAFE-T MIPs are also available to law enforcement, security, and first responders. SAFE-T products can be purchased in various forms, including SAFE-T SPRAY and SAFE-T WIPES. A Trace Collection Wipe is also available that is used in conjunction with SAFE-T SPRAY. Kits are available and are configured to meet the specific requirement of the customer.
SAFE-T MIPs may be used in harsh environments, and can be sprayed, printed, or spin-coated into commercial devices for the detection of a range of substances, compounds, and biological agents.