Nuclear matters

U.S. most vulnerable reactor: Indian Point 3, N.Y.

What are the odds that a nuclear emergency like the one at Fukushima Dai-ichi could happen in the United States? Tasked with ensuring nuclear power is safely used, the U.S. Nuclear Regulatory Commission (NRC) has compiled a ranking of 104 nuclear reactors to address such a question and they have found that each year, at a typical U.S. nuclear reactor, there is a 1 in 74,176 chance that an earthquake could damage the core and expose the public to radiation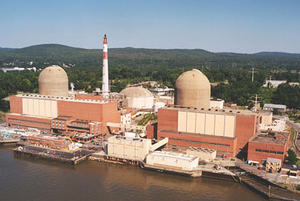 New York's Indian Point nucklear power plant // Source: smidirect.net
What are the odds that a nuclear emergency like the one at Fukushima Dai-ichi could happen in the United States? Tasked with ensuring nuclear power is safely used, the U.S. Nuclear Regulatory Commission (NRC) has compiled a ranking of 104 nuclear reactors to address such a question and they have found that each year, at a typical U.S. nuclear reactor, there is a 1 in 74,176 chance that an earthquake could damage the core and expose the public to radiation. This estimate does not include the threat of tsunamis. To put such an estimate in perspective, a person would be 10 times more likely to win $10,000 in the Powerball multistate lottery, where the chance is 1 in 723,145.
The ranking has found that the nuclear reactor in the United States with the highest risk of core damage from a quake is on the Hudson River, 24 miles north of Manhattan, in the village of Buchanan, New York. Reactor #3 at the Indian Point Energy Center was rated as having the highest risk of earthquake damage in the country. The odds take into consideration two main factors: the chance of a serious quake, and the strength of design of the plant.
The chance of core damage from a quake at Indian Point 3 is estimated at 1 in 10,000 each year. Under NRC guidelines, this rating is very close to requiring "immediate concern regarding adequate protection" of the public. The two reactors at Indian Point generate up to one-third of the electricity for Manhattan. The second reactor, Indian Point 2, does not rate as risky, with an annual chance of 1 in 30,303.
Nuclear power plants built in zones of high earthquake incidence have low damage potential because of their fortified architecture. Other plants in the East, South, and Midwest, where the design standards may have been lower because the earthquake risk was thought to be minimal, now find themselves at the top of the NRC's danger list.
The chance of serious damage from a quake ranges from Indian Point's 1 chance in 10,000 each year, a relatively higher risk, to the Callaway nuclear plant in Fulton, Mo., where the NRC set the lowest risk, 1 chance in 500,000 each year.
With the report, NRC added that "Operating nuclear power plants are safe," since every plant is designed with a margin of safety beyond the strongest earthquake anticipated in that area.
The NRC, however, also