U.S. officials: terror threat against U.S. diversifying
Published 24 September 2010
The terrorism threat against the United States has evolved, with homegrown terrorists and a greater diversity in the scope and methods of attack making it more difficult to prevent them, top security officials told a Senate committee Wednesday; the number of terrorist attacks against the United States increased in the past fifteen months; Napolitano said the nature of terrorist attacks continues to evolve, with recent attacks coming faster and with "less extensive pre-operational planning than previous attempts and with fewer linkages to international terrorist organizations"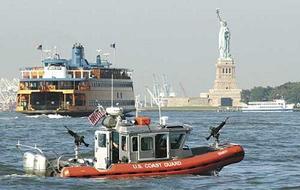 U.S. Coast Guard patrol in New York Harbor // Source: warshipsifr.com
The terrorism threat against the United States has evolved, with homegrown terrorists and a greater diversity in the scope and methods of attack making it more difficult to prevent them, top security officials told a Senate committee Wednesday.
"It is diversifying in terms of sources; it is diversifying in terms of tactics," Homeland Security secretary Janet Napolitano told the Senate Homeland Security Committee. "The results of these changing tactics are fewer opportunities to detect and disrupt plots." CNN reports that the hearing focused on the terrorism threat in the nine years since the September 11, 2001, attacks on the United States.
Napolitano, along with FBI director Robert Mueller and Michael Leiter, the director of the National Counterterrorism Center, said the number of terrorist attacks against the United States increased in the past fifteen months.
In particular, they cited the Fort Hood, Texas, shootings; the failed Christmas Day bombing of a U.S. airliner; and the failed car bomb attempt in New York City's Times Square as examples of the increasing attacks.
Senator Susan Collins of Maine, the panel's ranking Republican, called the increased attacks "alarming and significant."
"The past two years have taught us through harsh lessons that we simply must increase our efforts," Collins said.
Napolitano said the nature of terrorist attacks continues to evolve, with recent attacks coming faster and with "less extensive pre-operational planning than previous attempts and with fewer linkages to international terrorist organizations."
"There is a rising threat from attacks that use improvised explosives devices, other explosives, and small arms," she said in a written statement presented to the committee. "This type of attack has been common in hot spots around the world for some time, but we have now experienced such attempted attacks in the United States."
Unlike the highly planned large-scale 9/11 attacks, the smaller-scale attacks seen now require "less planning and fewer pre-operational steps," Napolitano's statement said. "Accordingly, there are fewer opportunities to detect such an attack before it occurs," she added.
While al Qaeda remains a major international threat, other foreign terrorist groups that affiliate with al Qaeda or follow in its steps have increased in number, the officials noted.
They also cited an increase in self-radicalized Americans, often by exposure to internet postings by foreign terrorist groups.
After the 2001 attacks, U.S. counterterrorism efforts were criticized for a lack of coordination among agencies.
Efforts to increase coordination under the umbrella of Leiter's counterterrorism center came into question after the failed Christmas Day airline bombing, when it was revealed that relevant information never raised sufficient alarm to stop the suspect from boarding the plane.
Napolitano's statement said her department is increasing "fusion centers" that help share intelligence among security agencies, adding that the number of centers has grown from "just a handful" in 2006 to seventy-two today.
Asked if the increased attempts to attack the United States would continue, the officials said they must assume that they will. "I do think it is, in part, contingent on what happens overseas, whether it be in Yemen or Somalia or Pakistan," Mueller said. Efforts to minimize the influence of radical groups in those places could reduce their ability to attack the United States, he said.
Leiter, however, said there is no sign that overseas radicals are diminished in their influence or abilities.
The hearing, which was largely collegial in tone, took a slight departure when Senator John McCain (R-Arizona) suggested that Napolitano, Arizona's former governor, had shifted her concerns about border enforcement since becoming secretary of homeland security. "Where I sit has not changed my position," Napolitano said.
"Clearly you have [changed positions]," McCain replied.
"What we have done in the past two years is put more resources at the southwest border than ever before both in terms of federal [resources] and providing resources to the states," Napolitano said.
She said reports that her department would not deport people unless they had committed serious crimes are inaccurate, although she said detention space is limited and priority is given to deporting aliens who are felons or gang members.