Disasters

U.S. tsunami warning system outdated

The two tsunami warning centers the National Oceanic and Atmospheric Administration (NOAA) operates are "remarkably outdated" and need upgrades, experts say; both centers need upgrades with common sets of hardware and software tools, which both lack today; it is estimated that design of the architecture and purchase of new hardware would cost about $2 million — a small investment to improve the warnings of potentially devastating events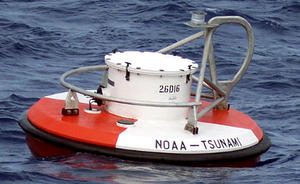 A Dart II tsunami warning buoy // Source: noaa.gov
The two tsunami warning centers the National Oceanic and Atmospheric Administration (NOAA) operates are "remarkably outdated" and need upgrades, said John Orcutt, professor of geophysics at the Scripps Institution of Oceanography in La Jolla, California.
Nextgov reports that Orcutt, who chaired a National Academy of Sciences committee that issued a report in September 2010 on the U.S. tsunami warning and forecast system, said the tsunami that battered Japan on 11 March makes a compelling case to upgrade the warning centers.
NOAA put out a request for information one week after a magnitude 9.0 earthquake struck Japan last month, generating waves as high as 124 feet. Proposals to upgrade the Pacific Tsunami Warning Center in Honolulu and the West Coast and Alaska Tsunami Warning Center in Palmer, Alaska, are due today (19 April). Orcutt said the request for information reflects the recommendations in the academy report.
According to the report and the modernization technical roadmapp in the RFI, both centers need upgrades with common sets of hardware and software tools, which both lack today.
The two centers also issue warnings using different message formats, and they should be standardized, Orcutt said.
The centers issue their predictions based on earthquake data recorded by seismographs, tidal gauges, and Deep-Ocean Assessment and Reporting of Tsunamis (DART) buoys, which measure sea levels. Until 2004, NOAA had only six DART buoys in operation in the Indian and Pacific Oceans.
Nextgov says Orcutt estimated design of the architecture and purchase of new hardware would cost about $2 million, a small investment to improve the warnings of potentially devastating events.