Mine detection

Vallon showcases innovative mine detector

German company Vallon unveiled its latest mine detection system; one of its advantages is that it can detect mines made with no metal parts (the device can detect metal-free particles at a depth of 40 cm, and metal objects at greater depths); the UN is already deploying the device in mine-clearance operations in thirty countries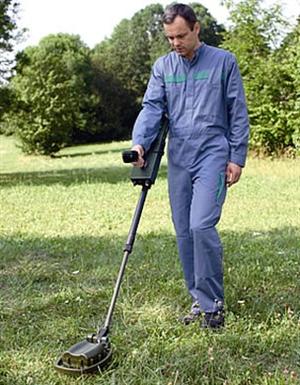 Technician operating a Minehound VMR2 // Source: cobham.com
Founded in 1965, Germany-based Vallon, a global operator and producer of mine sensors and ferrous locators (UXO bomb locators), will be showcasing its MINEHOUND VMR2 dual mine detector to partners in Azerbaijan.
The device was exhibited at the IDEX 2011, International Defense Exhibition, held in Abu Dhabi. The 5-day event had over 60,000 visitors, 1,060 exhibitors from 52 countries, 49 participants in the First-Time Exhibitor Zone, and attendance from over 100 official delegations. Four naval ships from the UAE, United Kingdom, and France took part while military bands from New Zealand, Australia, and the UAE performed in the daily opening ceremonies rerun.
According to Michael Wieder, sales manager at Vallon, the device has multiple features. The company provided the device to various global mine-clearing companies using mine sensors, including its Azerbaijani partner. The U.S. Navy has also shown an interest in procuring the device.
The device's electromagnetic induction device (EMI) and ground penetrating radar (GPR) allow for the detection of metal and metal-free objects. Each detector weighs approximately eight pounds and uses rechargeable lithium polymer cells, or an optional power supply of 4 D-size batteries. VMR2 is one of many detection devices offered by Vallon.
According to Alex Donnison, sales manager, Cobham Technical Services, the device was offered along with the Cobham ground penetrating radar. It has dual transmitters and can detect metal-free particles at a depth of 40 cm, and metal objects at greater depths. The Azerbaijan National Agency for Mine Actions, an assembly of fourteen UN department, agencies, and programs that provides demining and mine-risk education to thirty countries and three territories, is currently deploying the sensors in mine-clearance operations.