Vast cleanup of Plum Island land since 2000
DHS plans to sell Plum Island and replace its bio-research facilities with a brand new BioLab in Manhattan, Kansas; documents show that since 2000 there have been extensive efforts to remove vast amounts of waste and contaminants — hundreds of tons of medical waste, contaminated soil, and other refuse — from the island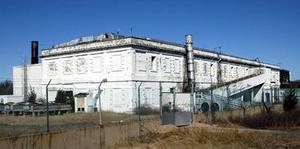 The Animal Research Center at New York's Plum Island // Source: wordpress.com
The Associated Press obtained government documents which show extensive efforts since 2000 to remove vast amounts of waste and contaminants from Plum Island, site of top-secret Army germ warfare research and decades of studies of dangerous animal diseases.
Some environmentalists remain concerned about the secrecy surrounding the 840-acre island off northeastern Long Island — and they are dubious of any claims that pollution has been remedied.
"We are highly concerned that when the government acts alone they may not be doing the best job," said Adrienne Esposito, executive director of the Citizens Campaign for the Environment. "Every government cleanup needs the public's involvement and independent oversight to ensure its validity."
DHS is preparing to sell the island 100 miles east of Manhattan ("DHS is searching for buyers for Plum Island facility," 4 August 2009 HSNW) and build a new high-security laboratory in Kansas to study animal diseases ("DHS in Manhattan, Kansas, to discuss the National Bio and Agro-Defense Facility," 4 May 2010 HSNW).
Documents, some obtained by the AP under the Freedom of Information Law, reveal that hundreds of tons of medical waste, contaminated soil, and other refuse have been shipped off the island for disposal. Other island sites have been cleaned in compliance with federal regulations, the reports indicate.
Also, the U.S. Army Corps of Engineers determined in 2006 that no munitions or ordnance remain from the Army base on Plum Island that once housed as many as 4,000 troops from the Spanish-American War through the Second World War. As late as 2007, New York government inspection reports said there is no environmental threat on the island.
AP notes that Plum Island's remote location, restricted public access, and a couple of best-selling books using the island as a backdrop have all helped fuel a mystique about what goes on there. It was not until the early 1990s that tours of the facility were given to the news media — about the time the government declassified files revealing secret germ warfare research there in the 1950s. The last media tour was in 2004.
Before the island, its ferry dock, and mainland offices can be sold, the General Services Administration, which manages federal properties, is studying the environmental impact of the research activities. A draft is expected by summer's end and public hearings will follow.
"There has been some EPA investigation and remediation," said Bob DeLuca, president of the Group for the