Security screening

Virtual Imaging: versatile detection at low radiation dosage

Virtual Imaging, a Canon U.S.A. Company, is offering its RadPRO SecurPASS, a full body security screening system that detects and recognizes a range of objects and materials in about eight seconds per person; it uses transmission imaging with an exceptionally low dose of X-rays to scan for dangerous or illegal substances such as liquid explosives, drugs, copper wires, plastic, etc.; its applications range from civil security, that is, airports, seaports, railways, bus stations, to border security, prison security, and high level security as necessitated by nuclear power plants, military premises, and embassies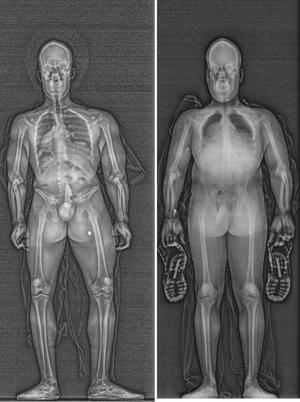 SecurePASS scan results // Source: Canon
The Cook County Jail, located on 96 acres in Cook County, Illinois, is the second largest single site county jail in the United States of America, housing approximately 9,800 men and women in eleven buildings. It employs 3,500 law enforcement officials and nearly 7,000 civilian employees. Cook County Jail has eleven divisions ranging from minimum to maximum security levels.
The jail has held several infamous criminals including Al Capone, Tony Accardo, Frank Nitti, Larry Hoover, Jeff Fort, Richard Speck, and John Wayne Gacy. It was one of three sites in which executions were carried out by electrocution in Illinois. Between 1928 and 1962, the electric chair was used sixty-seven times at the jail, including the state's last electrocution on 24 August 1962.
In 2008 the U.S. Justice Department harshly criticized the conditions in the jail, saying that inmates have endured vastly inadequate medical care, beatings at the hands of jail workers, and dilapidated, dangerous building conditions often left unrepaired for months.
The New York Times reported that:
Perhaps most remarkable about the federal findings was the comprehensive scope of the critique; almost no element of the jail seemed to meet muster. Investigators pointed to poor supervision of inmates, the presence of weapons, mistreatment of inmates, unsatisfactory dental, mental health and medical care, electrical hazards, plumbing problems and ventilation failings.
The Justice Department's critical assessment prompted Cook County to initiate sweeping improvements in the jail. One are to which special attention was paid was security. To make sure inmates and visitors (removed but also staff)— do not bring drugs, weapons, and other forbidden items into the jail, the authorities installed millimeter wave (MV) detectors in the correctional compound's eleven buildings. Over the course of time, experience and contraband technology improvements, Cook County realized that utilizing the MV generation of contraband detection equipment was no longer acceptable, so the jail management team turned to Virtual Imaging and MAS Security Solutions, having its principal office in Oak Brook, Illinois (MASSecuritySolutions.net) a primary distributor for Canon, in order to evaluate the RadPRO SecurPASS full body Security Screening System.
Dennis Wolfe, National Sales Manager-Security Products at Virtual Imaging, a Canon U.S.A. Company told the Homeland Security NewsWire that the results of the trial were very enlightening and instructive. In the building which serves as the primary booking area, the SecurPASS scanner was placed next to the MV scanner. Over the next four days, 300-500 people a day who needed to