Surveillance

Vumii unveils new thermal imaging cameras

Vumii, a firm that specializes in developing surveillance cameras, recently announced the addition of four new thermal imaging camera lines, expanding on its existing line of LED and laser-illuminated cameras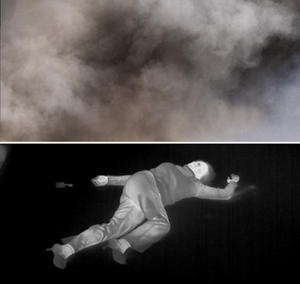 Thermal image reveals victim in midst of thick smoke // Source: photonics.com
Vumii, a firm that specializes in developing surveillance cameras, recently announced the addition of four new thermal imaging camera lines, expanding on its existing line of LED and laser-illuminated cameras.
With the addition of more than forty new camera models, Vumii now has a suite of products that can be used for almost any outdoor perimeter or border surveillance situation.
Randall Foster, Vumii's CEO, said, "The addition of thermal solutions to our existing line of active near-IR cameras allows us to address a broad range of security needs within a multitude of industries and organizations, especially transportation, critical infrastructure and government." "This unique and broad combination of cameras and technologies gives customers an exceptional set of solution options for threat detection and threat assessment," he added.
The four new thermal imaging lines have been dubbed CompactSec, EyeSec, DualSec, and Range Sec.
The company's base model, CompactSec, consists of a series of easily deployable, IP-enabled, un-cooled thermal imaging cameras, while EyeSec is a line of high-performcance, un-cooled thermal cameras that come with a variety of lens and resolution configuration.
DualSec is a capable of both thermal and visual surveillance and RangeSec is a high-sensitivity, cooled mid- thermal imaging camera line with continuous zoom long-range optics.
Vumii is based in Atlanta, Georgia and provides video monitoring solution for critical infrastructure operators, transportation hubs, as well as the government and military.