Disasters

Wyoming braces for spring floods

The Wyoming Office of Homeland Security is readying local and state agencies for projected spring floods and is urging local residents to prepare themselves as well; this year large snow packs from heavy winter storms have increased the likelihood of flooding; state officials are encouraging families to keep a three-day emergency kit loaded with food, water, clothing, flashlights, medicine, and important documents; last year floods hit Wyoming causing major disruptions, particularly in Fremont County; this year state officials hope to minimize the impact of floods with early preparation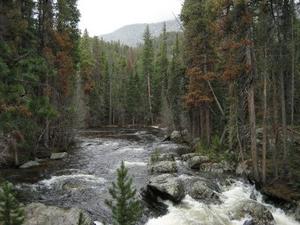 Snowmelt swells Wyoming streams and rivers // Source: infowyo.com
The Wyoming Office of Homeland Security is readying local and state agencies for projected spring floods and is urging local residents to prepare themselves as well.
This year large snow packs from heavy winter storms have increased the likelihood of flooding. Snow levels in the Upper Bear River Basin are 110 percent above average and many residents worry that the Bear River will crest its banks.
In addition heavy rains have exacerbated river conditions with the Green River Basin and Upper Bear River flowing as much as 109 and 129 percent above average respectively. Reservoirs are also roughly 20 percent fuller than usual and the ground is still saturated from last year's floods leaving it less capable of absorbing additional moisture.
Guy Cameron, the recently appointed homeland security director, is urging residents to make preparations. Cameron suggests that families keep a three-day emergency kit loaded with food, water, clothing, flashlights, medicine, and important documents.
He also urged residents to create evacuation plans and a method to contact family members in the event that they become separated.
Last year many of Wyoming 's rivers surged beyond their banks hitting Fremont County particularly hard. Local responders there were forced to work round the clock to build sandbag barriers and earthen dikes near the Popo Agie River and the Little Wind River to protect homes from the rising waters.
Highways were also flooded forcing Department of Transportation crews to build dirt berms along the edge of the highway.
Milward Simpson, the Wyoming state parks and cultural resources director, said, "Last year, I think it was fair to say the state, in general, was pretty much taken off-guard by the level of flooding that occurred."
"It was kind of a perfect storm of circumstances," he added.
This year, officials hope that the flooding will be less disruptive thanks to early preparation.
Officials in Glendo State Park have released water from the Glendo reservoir, relocated 160 people with camping reservations in low-lying areas, and have stopped taking visitors to help limit the impact of flooding.
Last year floods caused approximately $1 million in damages to the state park and resulted in a 50 percent decline in user fees.