UAV update

Advanced UAVs help war on terrorism -- and companies' bottom line

Published 30 November 2010

Ever-more sophisticated UAVs giving U.S. better eyes, ears, and even noses; new sensors enable flying drones to listen in on cell phone conversations and pinpoint the location of the caller on the ground; some can even "smell" the air and sniff out chemical plumes emanating from a potential underground nuclear laboratory; these advances mean a growing and potentially huge business for the defense industry: the drone electronics industry now generates about $3 billion in revenue, but this is expected to double to $6 billion in the next eight years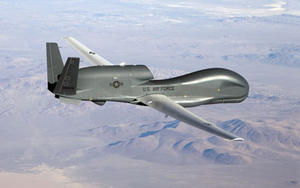 No longer the gold standard of UAVs // Source: flightglobal.com
A Global Hawk UAV, hovering more than eleven miles above Afghanistan, can snap images of Taliban hideouts that are so crystal clear that U.S. intelligence officials can make out the pickup trucks parked nearby and how long they have been there.
Halfway around the globe in an underground laboratory in El Segundo, California, Raytheon engineers who helped develop the cameras and sensors for the pilotless spy plane are now working on even more powerful devices that are revolutionizing the way the military gathers intelligence.
The Los Angeles Times reports that the new sensors enable flying drones to listen in on cell phone conversations and pinpoint the location of the caller on the ground. Some can even "smell" the air and sniff out chemical plumes emanating from a potential underground nuclear laboratory.
Reconnaissance is "now the centerpiece of our global war on terrorism," said David Rockwell, an electronics analyst with aerospace research company the Teal Group Corp. "The military wants to have an unblinking eye over the war zone."
This has meant a growing and potentially huge business for the defense industry at a time when the Pentagon is looking at cutting back on big purchases such as fighter jets and ships.
The drone electronics industry now generates about $3 billion in revenue, but this is expected to double to $6 billion in the next eight years, Teal Group estimates.
The industry's projected growth has fueled a surge in mergers and acquisitions of companies that develop and make the parts for the sensor systems.
"There has been an explosion in the reconnaissance market," said Jon Kutler, founder of Admiralty Partners, a private investment firm that buys and sells small defense firms. "It's one of the few remaining growth areas."
Kutler's company recently acquired Trident Space & Defense, which manufactures hard drives that enable drones to store high-resolution images.
Trident, which has about 70 employees, has seen its sales more than double to about $40 million over the past five years.
The LA Times notes that the demand for sensors is growing as the Pentagon steps up use of drones for intelligence gathering. More than 7,000 drones — ranging from the small, hand-launched Raven to the massive Global Hawk — are currently deployed in Iraq and Afghanistan.
Though some have been outfitted with laser-guided bombs or missiles — grabbing most of the news headlines — all are equipped with sensors for reconnaissance and surveillance work.
The most advanced cameras and sensors are on the