Surveillance

Beijing to track individual movement through cell phones

Beijing could soon track the daily movements of seventeen million residents by tapping into their cell phones; authorities have proposed a program designed to help ease traffic congestion by providing up to the minute data on an individual's movements; critics say that this is an attempt by authorities to prevent large crowds from forming; the proposed plan comes as Chinese officials have grown increasingly worried about domestic unrest in light of the mass protests sweeping across the Middle East; Chinese police forces turned out in full force after anonymous calls for mass protests were posted online; the government has also placed more than eighty activists under house arrest while others have gone missing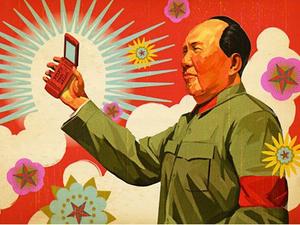 The Chairman would be pleased // Source: vator.tv
Beijing could soon track the daily movements of seventeen million residents by tapping into their cell phones. Authorities have proposed a program designed to help ease traffic congestion by providing up to the minute data on an individual's movements.
The project, dubbed the "Information Platform of Realtime Citizen Movement," would use a person's cell phone, local cell stations, and GPS technology to send data to powerful computers that will give government officials unprecedented amounts of information on any individual's current location and trajectory within Beijing. Critics of the program say that this is a thinly disguised attempt by authorities to restrict personal movement and to prevent large crowds from forming.
Opponents say that the information would provide law enforcement agencies a precise map of where large groups of individuals are gathering and allow authorities to immediately quash a protest.
According to Chen Derong, a professor of Wireless Communications at Beijing University of Posts and Telecommunications, the cell phone tracking system is not designed to monitor traffic.
He says that supervising traffic does not require tracking individual movements.
"We are talking about two completely different concepts. Mobile phone positioning is a matter of personal privacy. If you want to know about the flow of traffic, you should install filming equipment at junctions," he said.
Chen added, "Why should they know something as private as my current location just to help with traffic jams? Traffic flow and individual positioning are as incongruous as putting the mouth of a horse on the head of an ox."
The proposed plan comes as Chinese officials have grown increasingly worried about domestic unrest in light of the mass protests sweeping across the Middle East.
Chinese police forces turned out en masse on 20 February 2011 after anonymous calls for protests were posted online. China has also blocked the words "Jasmine Revolution" on search engines and disabled mass texting on cell phones.
The government has rounded up activists, placing more than eighty under house arrest while others have gone missing.
In the past Beijing has made little effort to monitor traffic flows. Every five years it sends out a survey to 50,000 residents inquiring about their daily commuting habits.
The plan is being proposed by the Beijing Municipal Science & Technology Commission, and officials have avoided any mention of using the system as part of a crackdown.
Li Guoguang, an official with the Municipal Science & Technology Commission, says the program would provide "knowledge of the population distribution and movement of the city with unprecedented accuracy."
The program has purportedly been developed in conjunction with China Mobile, the government owned cell phone provider.
Li estimates that 70 percent of Beijing's residents carry a cell phone, giving authorities the ability to precisely track the movement of seventeen million people.