Border control

Bill to allow DHS to seize authority over U.S. coastlines

The House is currently considering a bill that would cede control of America's coastlines to DHS; under the proposed National Security and Federal Lands Protection Act, the Secretary of the Interior would forfeit authority of all public coast lands to the Secretary of Homeland Security, whenever the DHS chief sees fit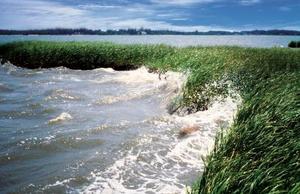 Interior could lose control of wetlands to DHS // Source: noaa.gov
The House is currently considering a bill that would cede control of America's coastlines to DHS.
Under the proposed National Security and Federal Lands Protection Act, the Secretary of the Interior would forfeit authority of all public coast lands to the Secretary of Homeland Security, whenever the DHS chief sees fit. The bill would also allow DHS to take control of lands located along the Canadian and Mexican borders. DHS would be empowered to freely construct roads and fences, deploy patrol vehicles, and set up "monitoring equipment" on these lands. Within 100 miles of a coastline or international border, DHS would also have the power to waive all environmental regulations including the Clean Air Act, the Safe Drinking Water Act, and the Coastal Zone Management Act.
The bill was introduced in April by Representative Rob Bishop (R – Utah) and has been referred to the House Committees on Natural Resources, Agriculture and Homeland Security.
According to the bill, its goal is to "prohibit the Secretaries of the Interior and Agriculture from taking action on public lands which impede border security on such lands, and for other purposes."
Several lawmakers and environmental groups are already opposing the bill.
Lynn Scarlett, a former deputy Interior secretary under President George W. Bush, and Representative William Keating (D – Massachusetts), who sits on the House Homeland Security Committee, have strongly criticized the bill and requested further clarification.
"While HR 1505 is just starting to be reviewed by the appropriate committees and as such, is subject to extensive modification, Congressman Keating believes the legislation in its current form needs to be clarified so as to appropriately assess the border security risk levels of various locations throughout the country and balance our national security against other vital protections, such as environmental safeguards, which should not be discarded haphazardly," said Lauren Amendolaro, the communications director for Representative Keating.
In addition, the Pew Environment Group argued that the bill is "sweeping waiver of the nation's bedrock environmental and land management laws" and does little to help secure America's borders.
Jane Danowitz, the director of U.S. public lands for the Pew Environment Group, said, "The proposed legislation would give unprecedented authority to a single federal agency to destroy wildlife habitat and wetlands, impair downstream water quality and restrict activities such as hunting, fishing and grazing. It would leave Congress and the public without a voice, even though at stake are hundreds of popular destinations."
The bill would allow DHS to waive environmental laws across large swaths of areas like the entire Alaskan border, all of Hawaii, and all of Florida. In addition DHS could gain control of national parks like the Carlsbad Caverns in New Mexico, Acadia National Park in Maine, and Mount Rainer National Park in Washington.