Biometric ID card contractors escape the U.K. government's axe
The new U.K. government has canceled the national biometric ID scheme and said that the National Identity Register will be destroyed, but companies with large biometric contracts — CSC, with a £385 million contract, whose Application & Enrollment System will be used to issue the passports, and IBM, with a £285 million contract for the National Biometric Identity Service — should emerge relatively unscathed, as their contracts will escape the government's axe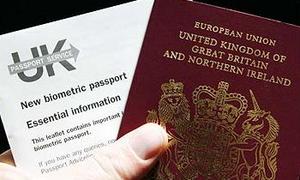 The U.k. biometric passport // Source: telegraph.co.uk
The two leading IT contractors on the outgoing national identity cards scheme should emerge relatively unscathed, as their contracts will escape the government's axe. Speaking last week, the government said ID cards would fold within 100 days for U.K. citizens, but not for "foreign nationals," and that biometric passports would remain.
ContractorUK reports that the announcement will please CSC, with a £385 million contract, whose Application & Enrolment System will be used to issue the passports, and the cards to foreigners.
It will also reassure IBM, on a £285 million contract for the National Biometric Identity Service, whose storage of biometrics will now be limited to asylum seekers and passports.
"IBM & CSC contracts will continue but will be scaled down in some aspects," said Phil Booth of NO2ID, reflecting on reported comments from Home Office officials. "There'll clearly be no need to ramp up for second biometrics (involving fingerprints) in passports for the entire population, so NBIS and the enrolment element should be on a much smaller scale."
Cancelling ID cards for Britons will save the taxpayer around £86 million over the next four years, the government says, including from decommissioning, contract termination and asset write-offs.
Destroying the National Identity Register, a contract held by Thales, the French IT group, is included in the saving estimate, though it does not account for a saving of £800 million from not collecting cardholder fees.
"The [savings] figures coming out at this stage are, I suspect, a bit conservative," said Booth. "There are savings to be had beyond the mere scrapping of the ID cards and Register, but far more complex negotiations need to take place before these will be clear."