Port security

Buoy system helps protect U.S. ports

With America's ports, waterways, and vessels handling more than $700 billion in goods annually, a terrorist attack on the system would have a crippling effect on the U.S. economy; to help mitigate these threats, Intellicheck Mobilisa has developed Aegeus, a series of buoys which have the capability of creating a surveillance perimeter that detects incoming vessels, biological substances, and even nuclear bombs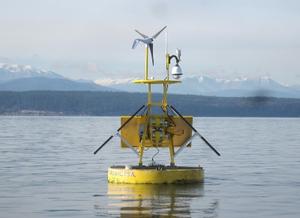 A deployed IDN buoy // Source: IDN
With America's ports, waterways, and vessels handling more than $700 billion in goods annually, a terrorist attack on the system would have a crippling effect on the U.S. economy. DHS officials have long sought to bolster port security, but have struggled to implement effective strategies that keep America's waterways safe.
Last year a Government Accountability Office (GAO) report found that despite positive strides made in improving security, the U.S. Coast Guard's radars and tracking systems "generally cannot track small vessels and resource constraints limit the Coast Guard's ability to meet security activity goals."
In light of the attack on the USS Cole in 2000 when a small vessel laden with explosives rammed into the Navy Destroyer killing seventeen and injuring thirty-nine, this is a serious concern.
To help mitigate these threats, Intellicheck Mobilisa has developed Aegeus, a series of buoys which have the capability of creating a surveillance perimeter that detects incoming vessels, biological substances, and even nuclear bombs.
"It's designed to detect anything in the air, on the surface of the water, or below the surface from the water and it can detect things like radiation, any kind of toxins, or bio-chemical releases," explained Steve Williams, the CEO of Intellicheck Mobilisa.
Each buoy comes with a customizable suite of sensors that include radiation detectors, chemical and biological sensors that test the air and the water, acoustic monitoring, and radars. Once the buoys detect an anomaly, it will send an alert to an operations center where personnel can use the buoy's daytime, infrared, or low-light cameras to view the situation in real-time.
"It effectively pushes out your security perimeter and ultimately gives you more time to respond to an incident," Williams said.
As an example, Williams pointed to their potential deployment with the Navy. "If a carrier strike group were to drop a few buoys, they would be able to detect some unusual movement or when ships are approaching earlier so they can respond accordingly," he said.
The buoys are also equally at home resting in waters closer to America's coastline. One of the company's buoys is currently deployed in the Potomac River several miles outside of the U.S. capital giving the Coast Guard an advance warning of any potential incoming threats.
Williams said that the buoy has a range that covers "shore to shore," so the Coast Guard can see "any and every boat coming up and down the river."
The company initially began developing Aegeus in 2009 as part of a $20 million Navy research and development program. Since then the company has expanded the system to include homeland security uses as well as environmental monitoring capabilities.
The buoys can be outfitted with several different arrangements of sensors depending on their use. For instance seven buoys are currently deployed in Puget Sound off the coast of Washington and help the National Oceanic and Atmospheric Administration (NOAA) monitor wind shear.
Using the data from the buoys NOAA can now identify microbursts and wind shear ahead of and after a storm and report them to pilots in the air. In addition, the buoy deployed in the Potomac is located near a bridge, so NOAA now has the ability to advise local authorities on when it should close the bridge if the winds before or after a storm are too dangerous. The devices also measure water temperature, pH balance, and can even detect oil spills.
Each buoy generates its own power with the help of solar panels and relies on the company's Wireless Over Water (WOW) technology to transmit data. With this system in place, the buoys can act as a wireless communications network for ships instead of satellite relays.
The buoys start at roughly $100,000 and can cost as much as $500,000, depending on the sensors it is equipped with.
Moving forward the company is competing for another Navy contract and Williams says that the buoys have piqued the interest of port operators.
"We're seeing significant interest from port operators who want the ability to see ships coming into their ports before they get in and tie them up," he said.
The company recently completed its research and development phase and is now entering its deployment and operation phase.