Maritime security

Delaware launches marine security unit

Published 10 November 2011

Last week, Delaware showed off the latest additions to its law enforcement arsenal, two new high-tech boats aimed at protecting the state's waterways and critical infrastructure; the boats come with the announcement of a new maritime patrol unit that will be staffed by three full-time state troopers and two part-timers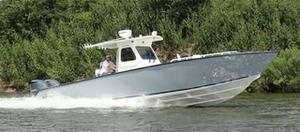 A new Metalshark, one of two new high-tech craft // Source: goingthenauticalmile.com
Last week, Delaware showed off the latest additions to its law enforcement arsenal, two new high-tech boats aimed at protecting the state's waterways and critical infrastructure.
The boats come with the announcement of a new maritime patrol unit that will be staffed by three full-time state troopers and two part-timers.
"People sometimes forget how much water we have in Delaware, how much that has to be protected, all the assets that have to be protected," said Delaware Governor Jack Markell. "You think about all the things coming in and out of our port, this is a very big deal."
Delaware's coastline connects the Atlantic Ocean to the Delaware River and Bay waterfront, providing critical links to the region's economy that must be protected, said Markell. Several major ports, refineries, and chemical plants are located along the coastline and it also serves as the gateway to the Philadelphia region.
The new ships are outfitted with the latest equipment including radars, GPS, infrared cameras, side-scanning sonar, and sophisticated radio systems. One ship, dubbed "Marine One," is a thirty-six foot Metalshark capable of reaching speeds of sixty miles per hour, while the other is a smaller twenty-two foot Boston Whaler.
"These assets will go a long way in providing security for Delaware River ports, refineries, out chemical plants and all the infrastructure along our waterways," said Lewis Schiliro, Delaware's secretary of safety and homeland security.
The new unit was funded with the help of a $1.6 million federal port security grant.