Infrastructure

Detecting critical flaws in railroad lines

Rails are the only thing keeping trains weighing thousands of tons travelling anywhere from 70 to 160 miles per hour grounded, thus any flaws or imperfections in these rails could result in accidents or major delays; railroads transport more than 25 percent of the goods in the United States including critical resources like coal, lumber, chemicals, and grain; one firm has developed the technology to detect flaws in rails that could cause major disruptions or delays; most flaws occur inside the rail and cannot be seen with the naked eye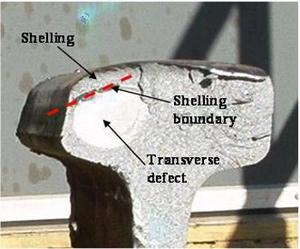 Typical rail flaws // Source: tisec.com
Rails are the only thing keeping trains weighing thousands of tons travelling anywhere from 70 to 160 miles per hour grounded, thus any flaws or imperfections in these rails could result in accidents or major delays.
With approximately 233,000 miles of railroad track in the United States, testing these lines is critical as railroads transport more than 25 percent of the goods in the United States including critical resources like coal, lumber, chemicals, and grain.
To ensure the smooth operation of railroads, Sperry rail has developed technologic solutions to quickly detect rail flaws to enable railroads to conduct preventative maintenance.
The majority of flaws often occur inside the rail, making them impossible to detect with the naked eye. Sperry Rail uses induction and ultrasound technology to quickly sense problems with rails.
Sperry has developed a variety of sensor technology including portable walking stick devices that can be operated by an individual and large high-speed units that travel along the rails. These larger units can be operated as a standalone or included as part of a train.
These high-speed detection cars can minimize disruptions to a railroad's daily operation as it can run at speeds that trains normally operate at. The cars are capable of sensing flaws while travelling 50 miles per hour and can test 120 to 160 miles of track each day.
The cars measure defect details, landmarks, GPS trail, rail features, and sensitivity. The inspection systems can also be set to alert operators of the length, depth, and size of an imperfection when it is detected.
When a rail line's trouble spots have been identified, repairs can be made to prevent accidents in the future.
According to the Federal Railroad Administration's Office of Safety, in 2010 there were a total of 1,820 train accidents as a result of ontrack rail equipment.
First founded in 1928 by Dr. Elmer Sperry, Sperry Rail was the first company to use nondestructive methods to test rails.