Infrastructure protection

DHS warns copper thefts on the rise

DHS officials warn that copper thefts from critical infrastructure and key resource sectors in the United States are on the rise; in March, a Port of Houston security guard was arrested for giving his friends and families access to the port, where they allegedly stole more than 22,000 pounds of copper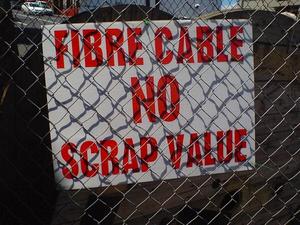 One way of safeguarding facilities // Source: treehugger.com
DHS officials warn that copper thefts from critical infrastructure and key resource sectors in the United States are on the rise. Record copper prices have resulted in an increase of at least 50 percent in thefts in 2010 compared to the previous year.
In March, a Port of Houston security guard was arrested for giving his friends and families access to the port, where they allegedly stole more than 22,000 pounds of copper. Meanwhile in 2008, thieves posing as utility workers in Florida stole more than $1 million worth of copper cables installed below the city streets. In particular thieves are targeting the energy, transportation, communications, agriculture, and water sectors as they are the most lucrative. These industries have facilities that house large quantities of copper components and often lack security measures to prevent theft making them appealing targets.
Law enforcement officials are keen to stop these robberies as they often disrupt electricity and communications networks and are expensive to replace. The Department of Energy estimates that in 2007 U.S. electrical utilities spent nearly $1 billion annually to repair the disruptions made by copper wire theft.
Earlier this year, vandals in California knocked down 300 power poles as they attempted to steal copper wiring from the poles. Meanwhile in December 2010, more than 4,000 homes and businesses in Louisiana lost power after a copper theft at an electricity substation created a system overload, forcing the system to shut down.
Furthermore, copper thefts can damage emergency communication networks making it difficult for first responders to work effectively. For instance in November 2010, a series of copper thefts from radio transmission towers near Houston, Texas prevented emergency-service dispatchers from communicating with firefighters and paramedics for nearly an hour.
To help combat this growing problem, several databases have been set up to help law enforcement agencies, critical infrastructure operators, and scrap metal dealers share information.
ScrapTheftAlert.com, established by the Institute of Scrap Recycling Industries, a trade association, is designed to allow victims and law enforcement agencies report any thefts. To help scrap dealers verify that the scrap copper they are purchasing was not stolen, dealers can search the site to see if any thefts had recently occurred in the area. The site can also automatically alert scrap-metal dealers if a theft has occurred within a 100-mile radius.
The Metal Theft Investigation System (MTIS) database similarly tracks copper and other metal thefts, but dealers can input information about any individuals selling copper including their driver's license number, photo, vehicle, license plate, and type of metal sold. Law enforcement officials can then access MTIS to help track down any criminals wanted in connection with recent copper thefts.