Ground transportation

DHS warns terrorists targeting buses

Published 15 November 2011

In a recent Transportation Security Administration (TSA) security bulletin, officials warned state and local authorities that terrorists are increasingly targeting bus networks; John Pistole, the head of the TSA, explained that bus networks are attractive targets for attacks because of their "accessibility" and their "open architecture"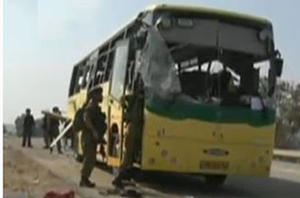 DHS warns that bus bombings may come to the U.S. // Source: peacenow.org
In a recent Transportation Security Administration (TSA) security bulletin, officials warned state and local authorities that terrorists are increasingly targeting bus networks.
John Pistole, the head of the TSA, explained that bus networks are attractive targets for attacks because of their "accessibility" and their "open architecture."
"It's something that we've seen in reporting over time that terrorists around the world clearly are interested," Pistole said.
Officials were careful to note that the warning did not come in regards to a specific threat or that there was credible intelligence indicating that terrorist were plotting an immediate attack, instead the bulletin sought to warn local law enforcement agencies of the growing risk to buses.
The bulletin, titled "Terrorist Concerns Regarding Mass Transit Bus Systems," noted that attacks on buses are far more common than on airlines and terrorist groups could try to recruit employees who work in the bus industry.
Between 2004 and 2009, there were more than 725 attacks on buses. Most notably, in 2005 during the coordinated attacks on the London transportation system, a suicide bomber blew himself up on a double-decker bus killing two.
In addition al Qaeda's magazine Inspire suggested using buses to ram into crowds, buildings, and other vehicles, while intelligence gathered from Osama bin Laden's compound indicated that he preferred using buses to carry out attacks.
"He always felt that he wanted to leverage his targets. Both to use a soft target, one that he had access to, and one that was spectacular because you know terrorism it has to resonate within the world of ideas. It's political theatre, and he had a really good grasp of that," explained Chuck Pfarrer, the author of "Seal Target Geronimo."