Search and rescue

Sandia's rescue robot wins technology prize

Published 19 October 2011

The remote-control robot contains color video cameras, a thermal imaging camera, microphones, and sensors that act as eyes and ears for rescue crews and provide air-quality information; two-way audio enables survivors to communicate with rescuers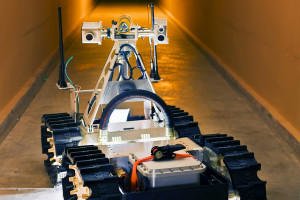 Sandia National Laboratories won the Federal Laboratory Consortium (FLC) Mid-Continent Regional Excellence in Technology Transfer Award for three of the technologies developed at the lab
Among the award-winning technologies is the 4-foot-long, 2-foot-tall Gemini-Scout Mine Rescue Robot, designed to help mine search and rescue teams save survivors in hazardous environments, such as during mining disasters.
The rescue robot won a Notable Technology Development Award.
Sandia has licensed the Gemini-Scout to Black-I Robotics, a small business in Tyngsboro, Massachusetts.
The remote-control robot contains color video cameras, a thermal imaging camera, microphones, and sensors that act as eyes and ears for rescue crews and provide air-quality information. Two-way audio enables survivors to communicate with rescuers.
Gemini-Scout's dual tracked-chassis design and tread enable it to negotiate obstacles, such as large rocks, railroad tracks, or water and mud up to eighteen inches deep. The robot also can carry up to 250 pounds of equipment for rescuers. The Gemini-Scout could be fitted to handle rescues in earthquakes, fires and mining accidents.