Border security

Battling smugglers along Canadian border

Published 27 January 2012

To help stem the flow of drugs across the porous northern border, federal authorities are working closely with tribal law enforcement agencies on Native American lands near Canada, providing equipment and training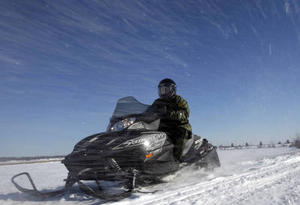 Snowmobiles make crossing 3000 miles of frozen border quick and easy // Source: ongo.com
To help stem the flow of drugs across the porous northern border, federal authorities are working closely with tribal law enforcement agencies on Native American lands near Canada, providing equipment and training.
In the Office of National Drug Control Policy's recently released strategy, border patrol agents and law enforcement officers will particularly aim to prevent Canadian marijuana, Ecstasy, and methamphetamine from entering the United States and to keep cocaine from South America heading north.
The report notes that in particular, "Drug smugglers have been known to seek out tribal jurisdictions in order to smuggle illegal drugs into the United States."
Last year agents seized nearly 10,000 pounds of marijuana along the northern border, but this is believed to only be a fraction of the total amount slipping through. For instance in May 2010, a Canadian smuggler confessed to running 2,000 pounds of marijuana a week through the forests of upstate New York.
More than sixty miles of northern border lands have been classified as "Indian country" by the report including the Blackfeet Tribe of Montana, Red Lake Band of Chippewa in Minnesota, and St. Regis Mohawk Tribe in New York.
To assist these tribes as well as law enforcement agencies across the northern border, the Office of National Drug Control Policyrecommends creating partnerships with Canadian law enforcement and to share intelligence among federal, state, and local authorities.
"The U.S.-Canada relationship already supports successful bi-national and multi-agency task forces, but it must work to improve these entities with limited resources," the report said. "Law enforcement agencies must reach out to community coalitions to develop effective prevention, treatment and law enforcement partnerships."
In response to the report, Senator Kirsten Gillibrand (D – New York) said, "Vast drug networks along our northern border are exacerbating violence in communities all across the state … This is the right strategy to fight this scourge at its source."